Losing potential orders on an eCommerce website is one of the biggest pain points for both eCommerce businesses and consumers. As eCommerce sales are expected to grow year over year, as well as the total share of global retail sales, meeting the evolving needs of digital retail customers is a must. One of the starting points in this endeavor is solving the issues that prevent eCommerce websites from generating successfully completed purchases.
Cart abandonment is usually a sign of a lack of transparency, perceived risk, and an inconvenient user experience. Out of the people that do not complete their purchases, a quarter of them buys the same product from a competitor. Only less than a third return to finalize the purchase eventually. According to Baymard Institute, 69,82% of online shopping carts are abandoned, with mobile and tablet devices having the highest percentage of shoppers hitting the exit button on a checkout page. The same research shows that the highest percentage of abandoned shopping baskets is in Spain (86.15%) while the lowest is among shoppers in the Netherlands (65.49%). Bigger drop-offs can be seen in women's knitwear items, leather goods, and lingerie categories.
Main reasons for shopping cart abandonment
The top reasons for shopping cart abandonment are naturally related to cost and user experience. Any cost that is not obvious from the very beginning, such as shipping, taxes, and extra fees, is the major cause of cart abandonment. On the other hand, a bad user experience and a complicated checkout process with many steps and multiple form fills can slow shoppers down. Moreover, it can permanently deter them from purchasing on that website again. We tackled the user experience topic in one of our previous blog posts where we present the 10 eCommerce UX best practices for a flawless user experience.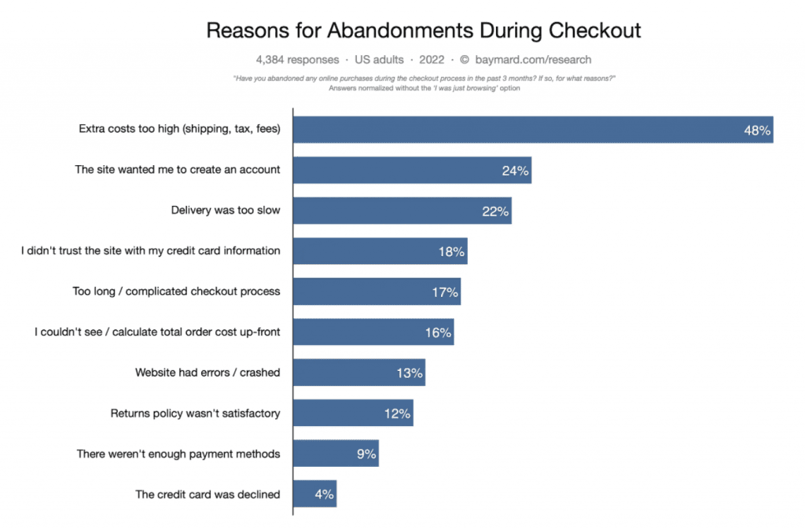 Source: Baymard Institute
The journey to win back eCommerce revenue starts even before shoppers reach the checkout page. This is why the optimization steps should take into account various factors related to customer interactions. We've compiled a list of the most useful ways to reduce cart abandonment and generate successfully completed purchases:
1. Opt for a powerful eCommerce platform
A robust and responsive eCommerce platform is what makes the difference for eCommerce businesses from the very beginning. Powerful features, performance, ease of use, design, and themes, but also integrations are some of the criteria to consider in the selection process.
Zitec has extensive knowledge and expertise in leveraging the full potential of eCommerce platforms to help grow online stores. We've successfully implemented multiple eCommerce projects for top Romanian and international retailers and not only.
2. Ensure effortless navigation
The shopping experience should be intuitive, with minimum steps and no unnecessary interruptions. Customers need to be able to effortlessly add items to the shopping cart and get back to browsing the website offering. A good practice, in this case, is making it possible for shoppers to checkout directly from the product page. This way, there's a minimum number of steps to be taken to complete the order.
3. Provide live chat support
An added benefit to classic customer support is the live chatbot functionality. This speeds up the process and ensures customers instantly reach out when questions or troubles arise. Next to speed and relevance in the checkout flow, a live chatbot provides extremely useful information with regard to what isn't working, directly from shoppers.
4. Retarget cart abandoners
In a multichannel world, customers expect the same level of convenience at all touchpoints. An omnichannel experience should be a given, with advertising slots on social media, email, and other websites having the potential to bring back cart abandoners. Research shows that retargeting can reduce cart abandonment by 6.5%. Dynamic product ads, for example, make it easy to retarget shoppers who've left items in an online cart and nudge them to complete the purchase.
5. Invest in user experience
Being too far removed from customers is what makes eCommerce website owners prone to misinterpret shoppers' online needs. To overcome this, user surveys, usability testing, search-log analysis, or analytics reviews are some of the methods that guarantee an optimum user experience. We deep-dived into these user research methods in one of our previous blog posts.
Following the UX best practices and principles and investing in optimizing user experience can have an immediate positive impact on conversion rates. Check how good UX more than doubled online transactions for one of our clients.
6. Provide clarity about all costs
Transparency is key in earning trust and costs shouldn't be an exception. All expenses should be made clear from the very beginning, whether they're shipping costs, taxes, or other fees. This practice reduces the likelihood of burdening shoppers with an unexpected price increase and abandoning the cart.
7. Offer one-click or guest checkout
The level of cart abandonment in an online store highly depends on the entire checkout experience. In order to offer a seamless process and fast conversion, one-click checkout is a good option. The customer simply needs to click a single button to select an item, place it in the shopping cart and check out, payment credentials, and shipping information being already stored and confirmed. Guest checkout can also help, providing a more viable option than mandatory account creation.
8. Include progress indicators on the checkout page
Moving easily from simple browsing to adding items to the shopping cart should be a given. Progress indicators or bars offer users a clear image of their advancement on the checkout page. These serve as a visual reinforcement for shoppers to continue and finalize their purchases.
9. Accept multiple payment options
Having the ability to pay with one's preferred payment method is one of the most underrated aspects of online shopping. Cash on delivery, installments, card payments, digital wallets, or direct bank transfers ensure that every shopper is taken into account, regardless of their payment behavior.
10. Provide a clear refund and return policy
As shoppers can't try products beforehand, return and refund policies should be a default option on an eCommerce website. A good practice, in this case, is to make the return policy visible early in the checkout process. This informs shoppers, gives them peace of mind, and entices them to complete the order.
Talk to your eCommerce expert!
If you have any questions or would like to know more about growing your eCommerce business, send us a line. We're ready to take on your eCommerce idea or project, no matter how complex or ambitious it is.