Since Google Ads was launched, there have been many updates. The trends are changing and advertisers must keep up.
This article is made for advertisers who want to stay updated to Google Ads changes and find about how to optimize campaign for growing their business.
Let's take a look on what's new about Google Ads:
1. Advertisers have now access to expanding non-skippable video ads
Even though 15 seconds non-skippable ads were available only via YouTube reservation, this feature is now integrated in Google Ads and Display & Video 360.
Google launched this feature in January, for advertisers who are running auction campaigns, giving access to a complete array of creative solutions, no matter how they buy.
Now, advertisers can use 15 seconds non-skippable ads through Google Ads and Display & Video 360 just by setting up a campaign. The campaign you set will run across Google Video Ads Partners and YouTube. The user experience on Youtube will not be affected, because Google will make sure that users do not see the ad too often.
Through this type of video ads, brands can make sure they send a clear call to action to YouTube users, without their announcement being closed after 5 seconds.
You can find more here.
2. Starting May 1st 2019 advertisers can use parallel tracking for Display and Video campaigns
What does this feature do? It can help you avoid delays in mobile page loading and improve the user experience.
How? With the help of parallel tracking, your landing page will load faster, helping slow networks reaching pages in a shorter time.
Google explains it best:
,,With parallel tracking, users will head immediately to your landing page after clicking your ad while their browser processes URL tracking requests in the background. We've seen this help users on slower networks reach landing pages up to several seconds faster. When more visitors can reach and engage with your site more quickly, this can help reduce wasted ad spend and increase conversions for your business." (Source: Google Ads & Commerce Blog )
This feature will become mandatory for all Display & Video Campaigns (starting July 31 2019).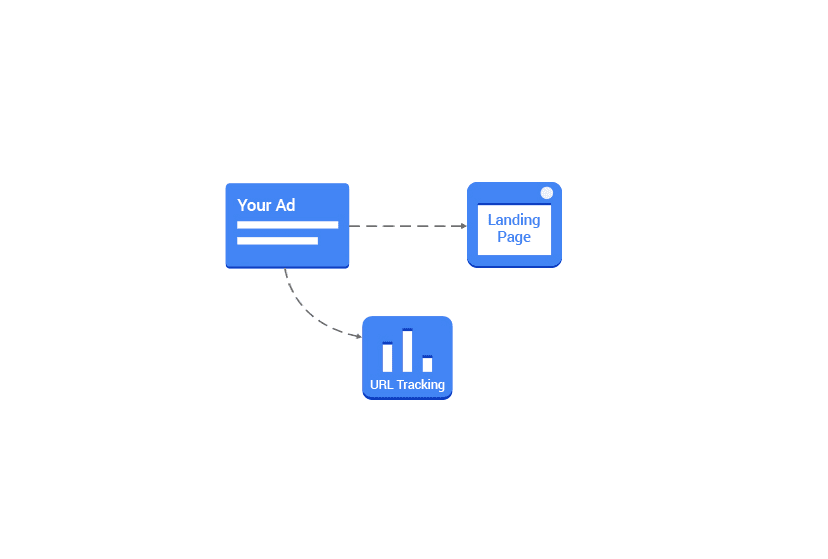 Source: Google's Blog
3. You can now find Click Share in Search Campaign metrics
Click share metric was available in Shopping campaigns for a few years and now you can use it in your Search campaigns as well.
What does this metric do? Click share is a metric that estimates how many clicks your ads received compared to the number of achievable clicks that Google estimated for your ads.
You can improve your click share by increasing your budget, your bids, number of extensions or by making other changes recommended by Google in the Recommendations tab.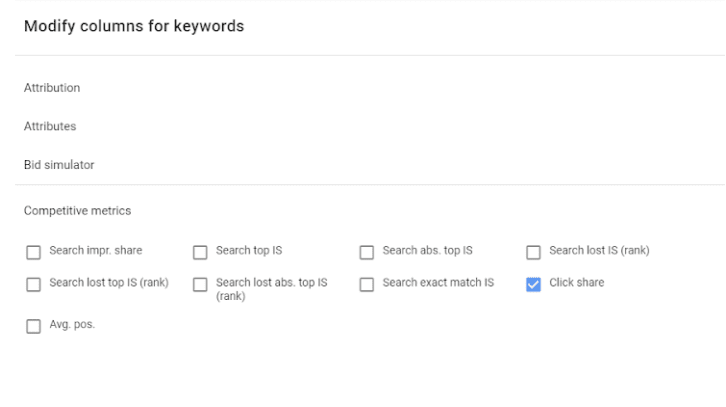 4. Updates on mobile page speed score
After Google launched in July 2018 the mobile speed score, which gave us the opportunity to see the fastest landing pages on mobile, in February 2019 they've updated the algorithm. Now you don't need to have so many clicks in order for mobile speed score to be calculated. So, the advertisers can now see the mobile speed score for more landing pages.
The speed score is calculated based on several factors including potential conversion rate and page speed. On a scale from 1 to 10, mobile speed score is evaluated as very good when it reaches 10 points.
It's important for your website to be mobile optimized, mobile responsive and mobile friendly.
Why?
Because a mobile optimized site will be molded after the screen of the device on which it is accessed and the loading time will be improved. In that way, the user experience that your website will give for your users, will increase. So, a large audience can access your website. In addition, a mobile optimized site helps you at SEO.
With a mobile friendly site you can be sure that your website will load appropriately on all types of devices and will be more easy to navigate on it.
A mobile responsive website can safety provide that no matter what device or browser users use, your site will be more flexible and practical for different screen sizes.
Plus, Google is first indexing the websites that have a mobile version.
5. Responsive display ads have three new features
Google introduced three new features for responsive display ads:
Video assets for responsive display ads

Combinations report

Ad strength scorecard
Because screen sizes and content types are continuously changing and improving, Google launched responsive display ads and now they introduce video assets to help advertisers reach more customers and conversions.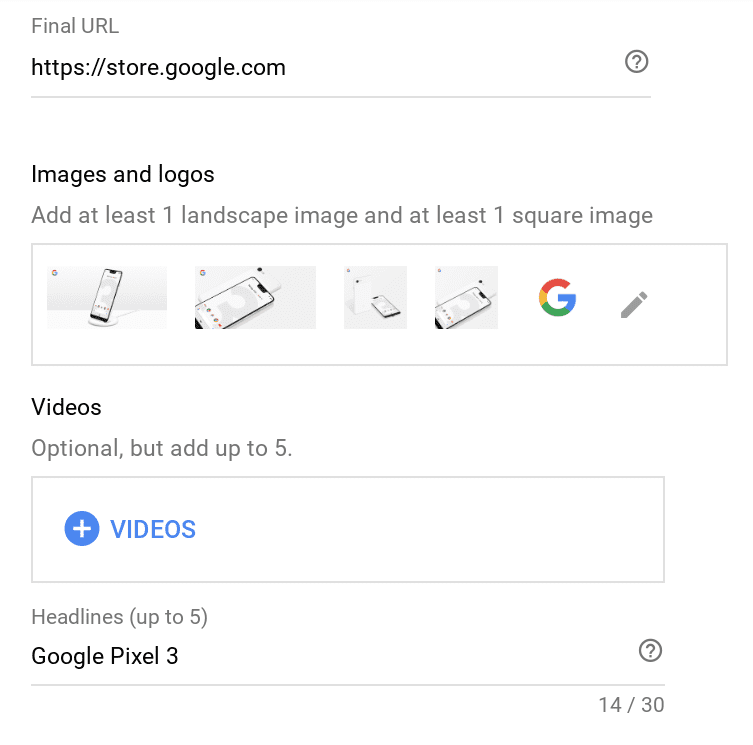 Source: Google Support
Combinations reports can help advertisers understand the best performing combinations from a mix of various creative assets, such as dynamic feeds, videos, images or text.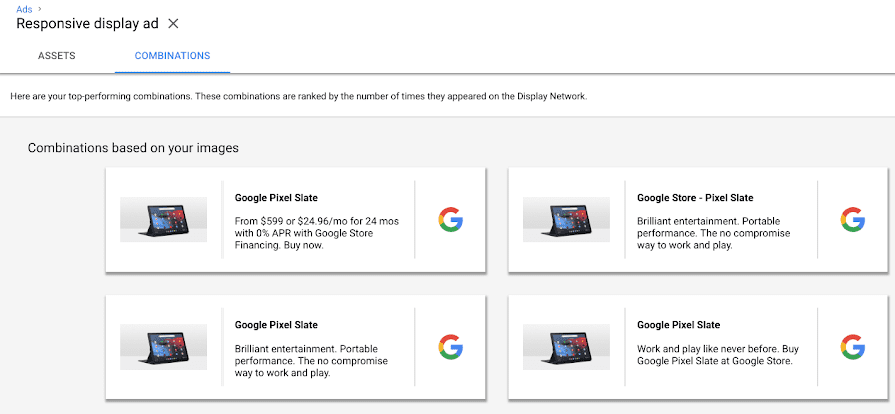 Source: Google Support
With some help from Google and using the ad strength scorecard, advertisers can drive successful responsive display ads.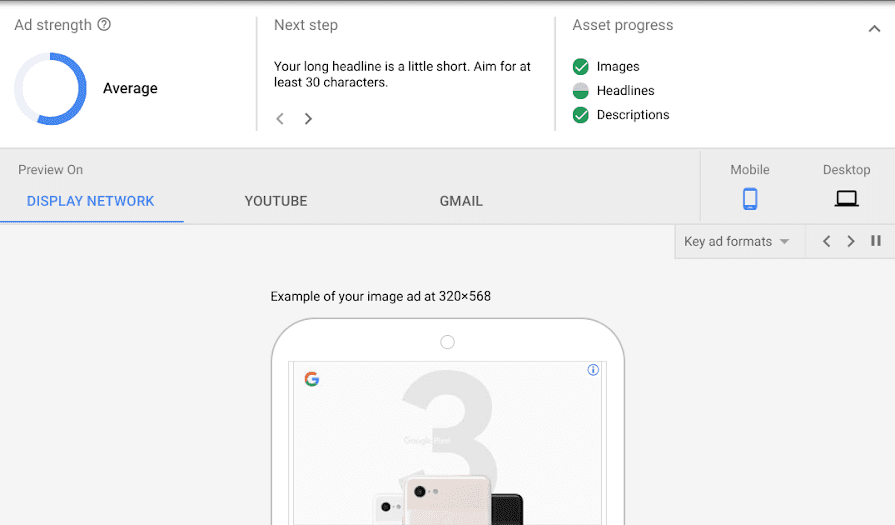 Source: Google Support
In a world full of changes and new trends, stay informed and #makeitso! We are happy to answer any question or dive into more details about Google Ads with you anytime. Just use the comment section below or say hi to us here.