Is your infrastructure ready to handle the Black Friday traffic surge? Are you aware of how to prepare your eCommerce website for the event? As it's highly important to get the Black Friday online shopping experience right, in this article we're delving into best practices for infrastructure stability, cost optimization, and technology check-up to get your business ready for a successful campaign.
WHAT CAN GO GREAT DURING BLACK FRIDAY
Black Friday is one of the most successful shopping events for retailers. During Black Friday 2021, for example, US consumers spent 8.9 billion USD, according to data from Adobe Analytics' Digital Economy Index. Romanian businesses have been cashing in on the shopping fever too. In the first 7 hours of Black Friday 2021, eMAG registered 361.872 customers, with the highest number of concurrent visitors reaching 423.154. Moreover, 34% more orders were placed than in 2020, with 44,12% being delivered through the easybox service.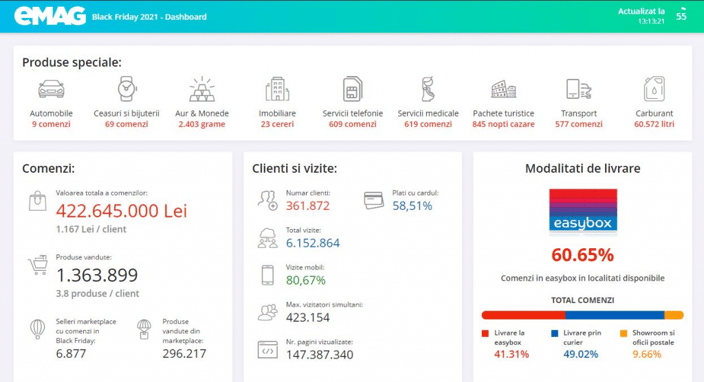 Source: Startup.ro
Instant page loading time, accurate stock availability and pricing information, and a frictionless checkout experience are the top customer expectations when shopping online during Black Friday. For online retailers and courier companies, this translates into technical adjustments that must be addressed before and during the event.
EXAMPLES OF SUCCESSFUL BLACK FRIDAY EVENTS WE HELD FOR OUR CLIENTS
In our over 19 years of experience in working with big retailers, we've prepared several Black Friday editions by addressing several technical areas, so let's have a look at some success stories and the best practices that stood behind them.
Flanco
With the new Microsoft Azure infrastructure, we prepared for the event, Flanco, one of the most popular Romanian retailers, enjoyed up to 80% cost reduction compared to its traditional version. This way, it became one of the few market players with zero downtime during the 2021 Black Friday campaign. The company wanted to improve its operational efficiency during the event due to the significant increase in online traffic, also recognizing the clear advantage of avoiding downtime to support as many sales as possible.
Our team helped Flanco move the infrastructure of their website to the cloud during the event, working on the company's main eCommerce platform and building a highly scalable setup able to handle a large amount of traffic, concurrent users, and orders per second. Over the years, we've constantly optimized the platform, conducting continuous performance tests while adding numerous features, such as real-time stock reporting or automatic QA testing.
Sameday
Sameday, the fastest-growing Romanian courier company, delivered more than 3 million parcels in the first few days of Black Friday 2021, a volume 50% higher than in 2020. Of the 3 million parcels, 40% were delivered to the easybox network, which is made up of over 3200 lockers today. The busiest delivery day was November 16, when Sameday delivered more than 350.000 items, double the average day.
To manage its logistics infrastructure, the locker network, and reporting during Black Friday, Sameday relies on Microsoft Azure technology. Using a simple integration with IoT Hub and AKS, the Kubernetes service managed by Azure, our team makes it easy to scale up Sameday's fleet of lockers – for example, dealing with a huge influx of parcels during the event. Moreover, mass updates or individual lockers control can be performed in real-time via the cloud, which enables the company to consolidate parcels from different orders into one locker. This level of flexibility, together with the modern tech stack, propels Sameday to the top of the most digitized courier companies in Romania, with a 99% uptime of services. We were able to achieve considerable cost improvements by migrating to Kubernetes, with some development environments saving up to 40% of the total cost.
This year's Black Friday will be managed by our team on Kubernetes, which we expect to bring new levels of flexibility and optimization to the entire event.
Flip
Flip, one of the most popular circular economy startups in Romania, boasted 13,4 million EUR in revenue in 2021. Their Black Friday 2021 campaign had a major impact on their annual growth rate, generating around 900.000 EUR in sales. The Zitec team was there to help prepare the event, covering the following important areas:
performance and security testing;
performance and security improvements;
platform maintenance during out-of-office on-call hours;
monitoring;
scaling.
WHAT CAN GO WRONG DURING BLACK FRIDAY
During Black Friday, eCommerce websites' traffic typically skyrockets, which is a good thing, as long as the sites don't crash. It can happen even to the biggest online retailers, as no one can accurately estimate the amount of traffic during the event.
While people hit the refresh button and complain on social media, companies struggle to manage the downtime, every minute of interruption meaning lost revenue and reputation. For example, Business Insider estimated that J.Crew's 150-minute website crash on Black Friday 2017 cost the company 700.000 USD in lost sales. The same year, Macy's, Lowe's, Perfume Shop, and Game were affected by technical glitches that slowed purchasing activity and transaction processing. In each case, the reported problems were resolved within hours, not minutes. According to Gartner, downtime costs approximately 5.600 USD per minute or USD 300.000 USD per hour.
KEY AREAS ONLINE RETAILERS SHOULD ADDRESS BEFORE & DURING BLACK FRIDAY
Year after year, Black Friday preparations should start a few months earlier with an in-depth analysis of the previous year's campaign. To be competitive, companies need to aim for proactive scalability, minimal downtime, and optimal costs.
One of the most important issues online retailers face during Black Friday is the application's inability to handle traffic, as it runs out of resources. A scalable infrastructure makes it possible to adjust resources based on expected traffic, which needs to be addressed through performance and load testing. The first performance tests should be run at least 2 months before the event, to have enough time to compare and adjust based on what traffic you expect.
Pro tip: Test on double the traffic you expect, to avoid any bottlenecks during the event.
However, there are certain scaling limitations that need to be addressed as well. Among the things that prevent a proper scaling of the infrastructure, the following ones are the most encountered:
the app is running on dedicated servers instead of VMs or Kubernetes and you don't have available resources to scale;
you don't have scripts that automate scaling and you need to set them up manually.
Adopting Kubernetes on your on-prem infrastructure or moving to the cloud during the event can help you bypass these limitations because it ensures adaptive, predictable scaling. Cloud infrastructure could also prove beneficial in the context of recurrent high-traffic campaigns as the cloud's AI capabilities help in predicting the next peak time and performing a proactive/adaptive auto-scaling right before the peak.
Another solution preferred by more and more companies is a hybrid infrastructure approach: what you don't have on-premise, you compensate during the event in cloud. Afterward, you can get back to the initial configuration. All the above approaches help you minimize costs as they prevent any unjustified resource usage.
In the preparation stage, but also during the event, a DevOps team can help with monitoring and modifying the resources of the existing infrastructure to accommodate the high-traffic event. The changes can be performed for Black Friday, especially before the event to avoid outages or any performance issues.
PREPARE FOR BLACK FRIDAY VS. ALWAYS BE READY FOR PEAK TIMES
Don't assume your infrastructure is ready. Plan your Black Friday 2022 campaign as if everything would go wrong, test the application to see what traffic it can sustain, and adjust resources accordingly. You can employ managed services to prepare for the event and move the entire scalability process to the cloud provider to ensure application stability or opt for a hybrid approach.
You shouldn't wait for Black Friday to be prepared in terms of infrastructure, but modernize your applications for daily usage and explore DevOps practices benefits. Doing this, together with having a dedicated DevOps team alongside, you'll enjoy three key benefits for your business:
lower costs

(if the infrastructure is autoscaling, the infrastructure costs are lower);
less time spent

on high-traffic campaigns;
predictability; you can use configurations for different scenarios, day-to-day operations, and high-traffic campaigns, without any noticeable effect on the shopper experience.
For example, one of our clients, iELM, does not rely on Black Friday campaigns, but on recurrent ones. Founded as a family company in Sweden in 2013, iELM has become one of the most important brands in children's clothing in over 15 countries throughout Europe and North America. As the business grew and expanded in more countries, there was a need to technically support this accelerated growth. As an end-to-end business partner of iELM, we launched the website internationally and enabled its growth through the implementation of delivery features, payment processors, configurations, process automation, as well as marketing campaigns. In addition, our team migrated the existing Magento 1 platform to Magento 2 and automated several internal processes, like AWB generation and order processing.