Lately, the whole world seems to have only one thing on its mind. It starts with the letter C and it changed the way we work, shop and socialize. It also made us more aware of the things we took for granted (I, for one, even miss the daily walk to the subway on my way to work).
Amid this general feeling of uncertainty and anxiety, businesses are struggling to keep up. Some sectors are already badly hit, others are trying to adapt or reinvent themselves.
Digital marketing: to spend or not to spend?
Many companies are changing their marketing strategies to accommodate changes in consumer behavior. Some industries cut down their advertising campaigns altogether, while others are keeping some basic branded campaigns active.
Digital advertising, however, has gotten cheaper. As consumers are spending more and more time online, digital real estate has grown as a result. This is why cost-per-impression on Facebook ads has declined by almost half, even though traffic on the platform has surged. For brands overall, Socialbakers saw a drop to $0.810 in March, which is less than half of the previous seven-month high in late November 2019 ($1.883). A similar situation is found when analyzing stats from Europe. At the same time, Socialbakers data suggests that Europeans are seeing more brand posts in their newsfeed in March.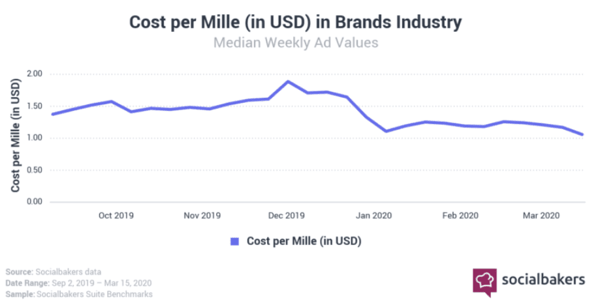 On news sites and some blogs, traffic has skyrocketed. This means companies still investing in digital marketing can get more exposure while spending less.
The rules are changing
As people are stuck indoors, "content is going to be king" during this crisis. But what kind of content should brands create during such slippery times?
Communication during these times is tricky and filled with traps. The market is flooded with messages about the pandemic and it's hard to capture attention by offering a unique perspective. At the same time, brands should adapt their communication by offering valuable pieces of content to the public.
These potential drawbacks should not prevent marketers from creating COVID-19-related content.
How to keep your brand strong during lockdown
"It's not having what you want / It's wanting what you've got" said Sheryl Crow in a 2000s hit song. Unfortunately, human nature is fickle and we often find ourselves wanting what we cannot have.
Although most cities are still in lockdown, people dream about the moment they'll be able to travel again or go out with their friends. The things we took for granted, such as after-work drinks with our colleagues, are now fantasy.
Bring your business to the customers
Some retailers, especially those operating in FMCG, are going strong during the pandemic.
Among the non-essential retailers, fashion stores find themselves struggling more. As most malls and shops close, some big brands find themselves, relying on their online shops for the first time. Smaller shops are contemplating the possibility of building their online presence. Starting an online store has never been easier. Many platforms are offering special deals and free consultancy for the crisis-stricken stores.
As far as their marketing strategy is concerned, most of them seem to use discounts or slashed shipping costs to get cash flowing. Another way to go is to boost online sales by targeting high-value customers and tailor the message. Adjusting the copy and creative on ads to the realities of the pandemic is a way to start. For example, you may not want to advertise hiking gear with "wanderlust" messaging when there's a global travel ban in effect. You can encourage your customers to prepare for the next trip when the pandemic is over.
There is one caveat, though. Brands should be careful and avoid pivoting too far away from their core brand messaging.
Restaurants and pubs are already moving online. Some of them already had a home delivery system in place before COVID-19, while others are starting out. Delivery services are not the only ones to promote during the lockdown. You can encourage your fans to support your business by buying vouchers for future outings. You can also stay in touch with them by offering special online treats (famous dishes recipes or online tutorials on how to mix your own drink).
Help people remain optimistic
Travel companies and airlines can help people dream about the places they'll be able to visit when all this is over. Try keeping their spirits up with a photo contest about holiday memorabilia, by starting a list of favorite places to visit when the crisis is over or even through a voucher giveaway. When the pandemic is over, people will have a pretty good idea about where their next vacation should be. Why not use your company to go on their first post-pandemic escape?
Travel insurance can be another hot topic for this industry. Most travel companies already had some form of insurance available before the pandemic. They can advertise it, using flexible packages that would give customers more confidence when they start booking again.
Virtual travel can be another generous topic to tackle right now. This subject seems to be gaining popularity as people try to cope with being stuck at home. Something as easy as a slideshow or a short video with the best spots in Paris could plant the seed of a future booking.
Make isolation feel easier
Work and education are two areas where most of us need to remain on top of things. In most countries, kids are home and parents try to juggle with keeping them entertained while remaining productive at work.
Most consultancy businesses can offer a helping hand with these issues. From managers to team members, everyone is looking for advice on how to improve productivity and stay focused. Create content that answers your partners' most pressing questions and offer your support in helping solve business problems.
If you are an educational business, consider creating online courses and webinars. Schools or kindergartens are offering free online classes for the kids, as well as conducting video lessons. Universities and educational platforms, such as Coursera and Udemy, are giving access for free to their online courses.
Health and fitness businesses had to close their doors but their clients still need their services. Gyms and clubs can teach online classes, such as yoga and pilates, or create content on eating right and starting an indoor workout routine.
Bring comfort
Financial services, such as banks or insurance companies, face a challenging role during the pandemic. Aside from health issues, budget cuts most to the emotional core of this crisis. Many people were laid off so financial worry is skyrocketing.
These brands have to ease their customer's fears and provide guidance. Offering details about practical matters such as wavering credit installments is a great idea. You can also provide guidance on hot topics such as ways of saving money or budgeting tips. This is the perfect time to offer support without focusing on making a sale.
There is no rule book for this crisis.
This is a completely new situation. There's no roadmap for any of us.
We're all going to see brands and marketing teams get it wrong and some excel in the face of the crisis. If there's one thing we should all do is be charitable with each other and try our best. And, most importantly, this is not the time to break the connection with our clients and partners. We are all in this together and only united we'll be able to pull through.
If still you feel unsure about how to navigate these challenging times, we're just an email away to guide you. Whether it's about digital marketing strategy or you want to know how to move your whole business online, we are here to help.
Cover photo by Carlos Muza on Unsplash