In their digital transformation and innovation journey, many organizations usually explore potential partnerships with software development companies to advance their strategic plans and IT projects. Regardless of the industry, company size, or business segment, experienced development companies come with deep technical knowledge and expertise that can boost their partner companies' ability to innovate and scale their business. Did you know that for the development of some of the most successful tech products like Slack, WhatsApp, or GitHub the companies relied heavily on outsourced talent?
Whenever externalizing an IT project, bear in mind that in the software provider selection process you need to evaluate their potential to provide you with the right team. Choosing a suitable team for your project might be challenging, especially when multiple variables are in place, such as project complexity, costs, location, or legal implications. All things considered, we're delving into the criteria and best practices that help you evaluate a software partner's ability to offer the right team for your IT project:
ABILITY TO COLLABORATE AND INNOVATE
Look for a company that can deliver results quickly and employs an agile development framework as part of the software development life cycle.
This aspect is one of the first steps in identifying the IT partner who can handle change when it's necessary, be resourceful in fulfilling objectives, and be willing to invest in a long-term partnership.
Agile approaches are important as they foster a high level of collaboration, commitment, focus, and openness. In addition, agile teams are autonomous, while the iterative development approach allows them to deliver rapid outcomes. With this framework in place, you'll get to market faster, unlike other development methodologies that might lead to a slower return on investment.
DELIVERY MANAGEMENT AND TEAM STRUCTURE
Look for a

hybrid approach

that includes a Project Manager on the IT partner's side and a Product Owner/Manager on your side;
Verify the

Project Manager's experience and appropriate qualifications and certifications;
Ask for their

Net Promoter Score

and

Customer Satisfaction Score.
You can check the company's experience in a specific industry on the Clutch or GoodFirms company listings. The profiles on these websites offer valuable information on the number and type of projects the company has successfully delivered, client references, pricing, or reviews.
Another aspect worth considering is management skills, which have just as much of an impact on the team's performance and productivity as technical expertise. A partner company needs to have motivated teams that deliver in an agile environment and an organizational culture that fosters a growth mindset, along with continuous improvement of processes and workflows. Moreover, customer success is another component worth evaluating. Focus in this direction might suggest an increased likelihood of reaching your desired outcomes throughout the collaboration.
Bear in mind that companies applying agile methodologies in their software development and delivery process have autonomous Scrum teams with roles such as Project Manager, Product Owner, Business Analyst, Scrum Master, Developers, Testers, and Designers ready to address every IT project's phase or needs. Additionally, DevOps Engineers or Software Architects can join in to bring the capabilities and expertise your IT project requires.
Eventually, evaluating all these criteria will ensure that you partner with a development company with a big talented team of specialists for all the phases of the software development life cycle.
CURRENT AND FUTURE CAPABILITIES
Look for a

development team that works as an extension of your own. This type of collaboration requires partners to gain a thorough understanding of your company's mission, clients, and objectives;
Check

what's on their tech radar

in the short, medium, and long term and how they are dealing with rapid advances in technologies.
A good IT partner should scale and support your company as it expands by proactively investing in informed technology management and strategic decision-making on which technology direction to pursue. They have a clear tech radar and constantly experiment with new technologies.
GAUGE FINANCIAL STABILITY
Verify the

financial stability

of your potential IT provider;
Examine their

turnover, productivity rate, and liquidity rate

to learn how financially solid their business is.
When selecting an IT partner, you want to ensure that the company is steady and capable of long-term economic viability. You want to be sure that this organization will be available for as long as you need them. Furthermore, when analyzing all the data, make sure you can confirm everything by double-checking with a trustworthy third-party source or current/former clients. B2B company rating websites like Clutch can also help, as many reviews are already verified.
ONBOARDING PROCESS
Once you've gone through the above criteria, it's important to also understand your potential partner's onboarding process and the way it aligns with your internal processes, expectations, and goals. Investigate if they use a systematic approach to business processes, including assessment, documentation, process mapping, and control identification. The way they handle customer relationships and the entire software development life cycle is paramount for the success of your project and the stability of your collaboration.
WHY CHOOSE ZITEC AS YOUR IT PARTNER
With over 19 years of experience in custom software solutions, eCommerce products, cloud computing, and digital marketing services, Zitec has a team of over 200 technology experts and 100+ certified specialists. For our clients, we leverage our global partnerships with Microsoft, Google, VTEX, Facebook, or Adobe to build custom, end-to-end business solutions.
We cover all aspects of a project, from ideation to implementation, scale, and continuous improvement and we invest in informed technology management. Over the years, we've helped our clients sustain accelerated business growth, advance security practices, and build strong value propositions and meaningful customer experiences.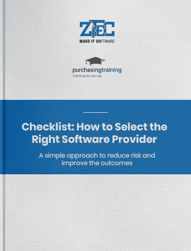 Now that we've tackled the importance of selecting the right team for your IT project, we encourage you to download this eBook for free, as it contains further valuable insights about all the things you need to consider in the IT supplier selection process.
We're always open to discussing your ideas or projects, so if you have any questions, feel free to get in touch any time.