The business environment is changing constantly, which means that the nature of unpredictability is unquestionably a factor that makes organization owners think of new ways to reinvent their strategies and achieve value and results. Embracing cloud technology is one method that can significantly improve business results. The cloud provides agility and accessibility, it is easily scalable, it can meet clients' demands and achieve a faster time to market, as well as improve innovation.

As companies are thriving on cloud, Zitec, together with our partners from Google Could Greece, organized on June 15th 2023 the international event Innovation & Optimization in Cloud in 2023, which emphasized upon the impact that Google technologies could have on businesses. The insights from the event and the benefits of a scalable and optimized cloud infrastructure are listed in the following lines.
The first Zitec "cloud innovation and optimization" international event in Greece
Businesses' necessity to reach higher efficiency and agility, improved security, cost savings, and streamlined operations is a constant subject put under scrutiny. There is no denial that digital transformation is the answer to all these demands. More precisely, migrating to the cloud. And this is where Zitec comes in.

Having the know-how to help companies - regardless of their industry or business size - understand the power of Cloud Infrastructure, Big Data, AI (artificial intelligence) and ML (machine learning), Zitec's tech specialists and Google Cloud's experts joined forces to bring more light on why implementing cloud technologies is the key enabler to success.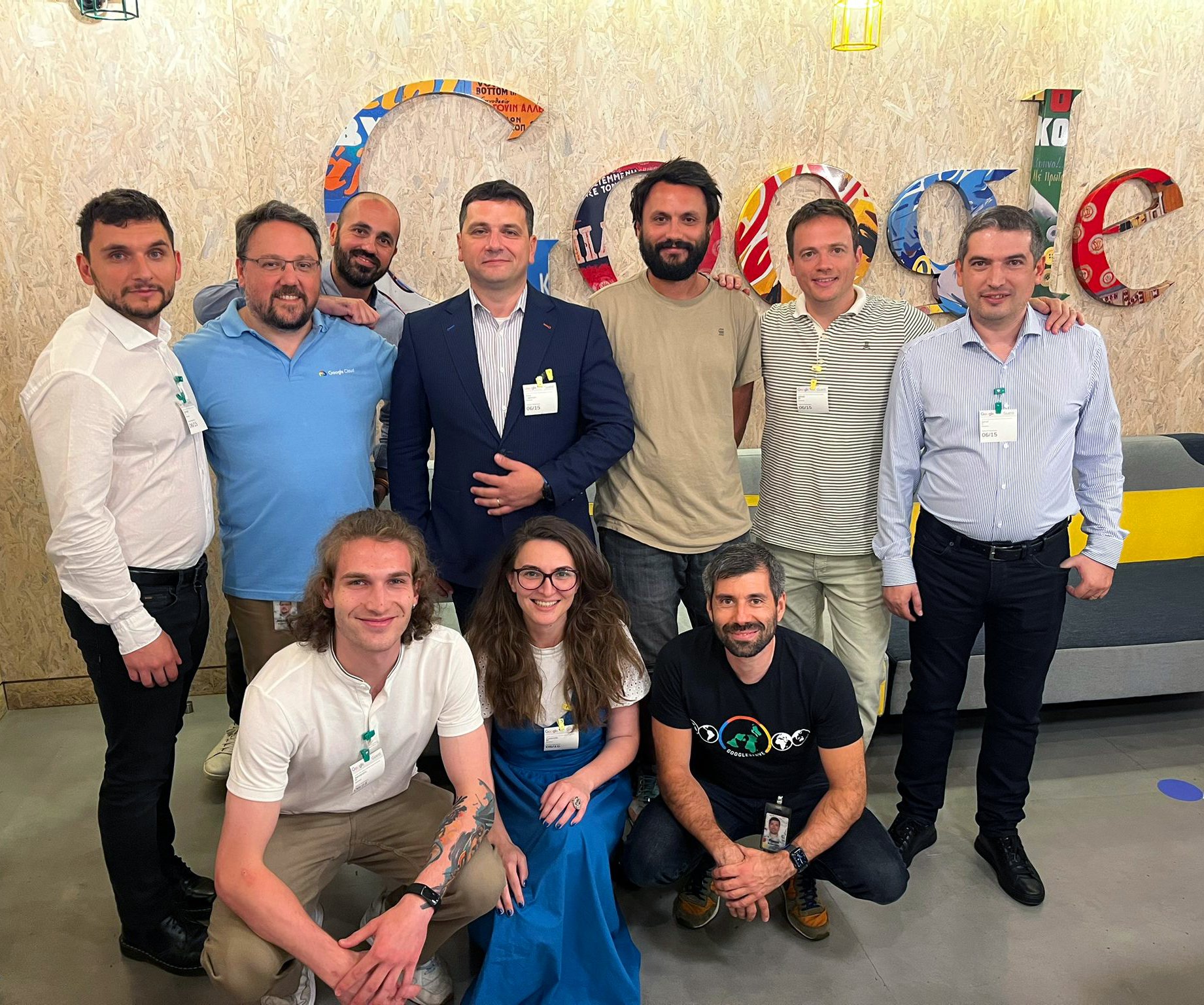 Google & Zitec at the Innovation & Optimization in Cloud in 2023 event
June 15th was the day when the Zitec and Google Cloud teams met in Athens, Greece, at Google's headquarters, to tackle subjects that help businesses rethink the importance of cloud in 2023:
Accelerating innovation through cloud infrastructure

- cloud migration can reduce IT costs and improve efficiency

Cloud trends in 2023

- the most effective technologies and tools can help streamline business operations and improve customer service

Benefits of Google technologies

- cost optimization, business growth, high level security and more.
I am thrilled to share the remarkable success of our recent event, held in collaboration with Google Cloud, in the vibrant city of Athens, Greece. We extend our sincere gratitude to Google for their invaluable support and partnership in organizing this event. Together, we aim to create an environment where IT leadership professionals can expand their knowledge, exchange ideas, and build relationships that will propel their organizations forward.

Mihail Mușat
DevOps Business Line Director, Zitec
LinkedIn post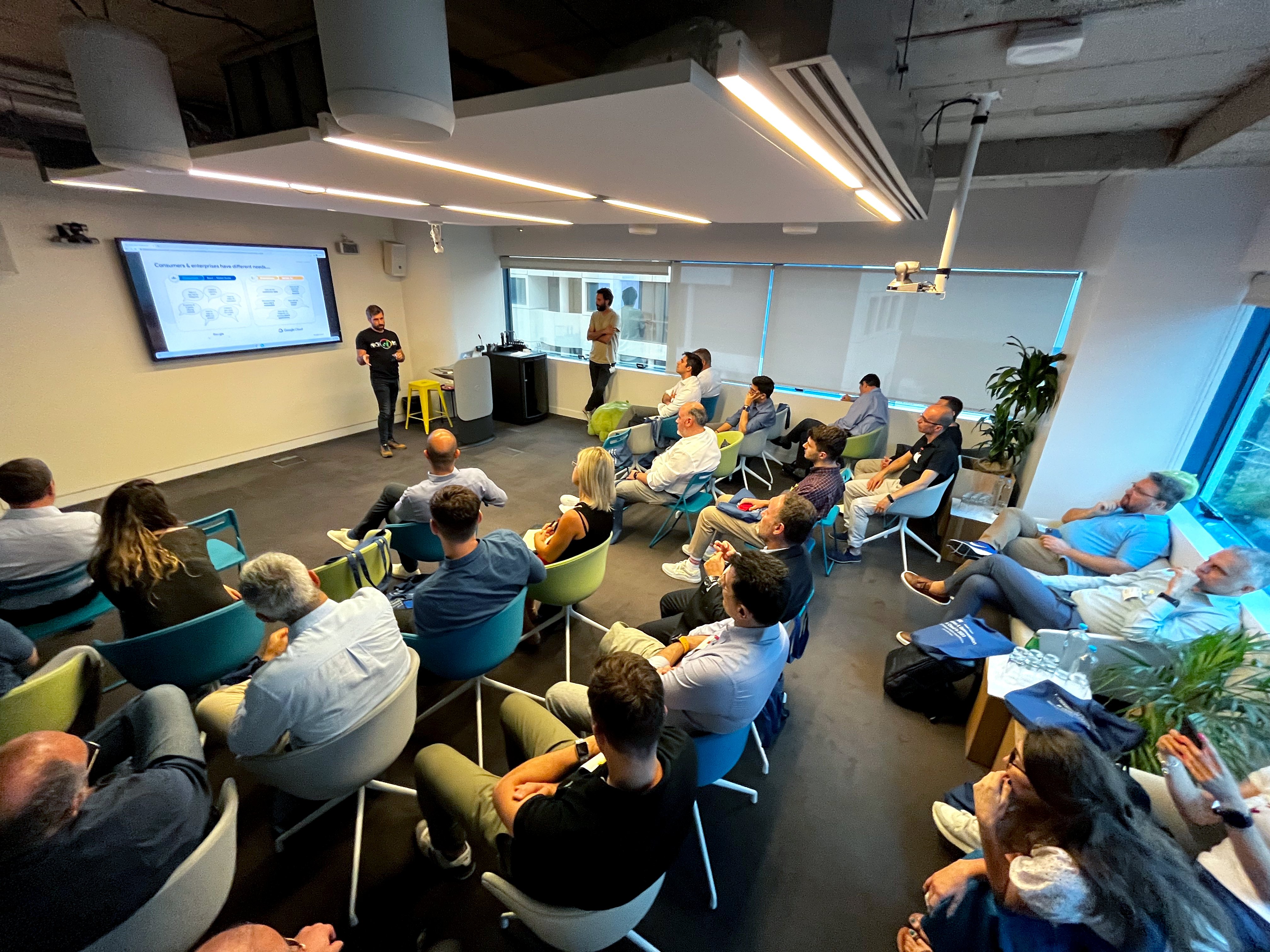 Innovation & Optimization in Cloud in 2023 - a widely mediatized event on LinkedIn
Google Cloud and Zitec - a partnership that prioritizes businesses' upturn
As a Google Cloud Premier Partner with years of cloud experience and successful projects in Romania and other CEE markets, we are thrilled to expand our activity abroad, by leveraging our experience to bring forward the best solutions to optimize infrastructure, modernize applications, and achieve business growth. Here are some of the highlights discussed by the speakers during our Innovation & Optimization in Cloud in 2023 event.
Nikos Anastopoulos, Senior Cloud Services Executive at Google, opened the event with a short overview of Google's expansion on the Greek market and some in-depth details about the main differences between Google Cloud and other cloud providers.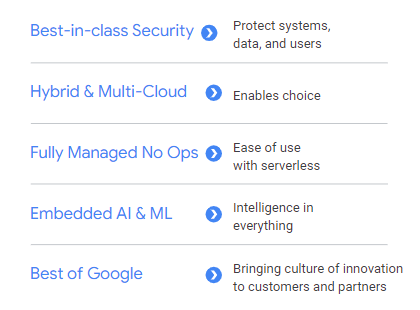 What makes Google Cloud different from other products
After Nikos's insightful introduction, our very own Alex Lăpușan, CEO & Founding Partner, presented Zitec's 20 years journey as a reliable service provider for companies all over the world, and our long and fruitful collaboration with Google Cloud.
Marius Bălteanu, Zitec
Marius Bălteanu, Chief Information Officer & Partner at Zitec, manages Zitec's IT infrastructure, DevOps and Google Cloud activities. His primary goal is to create a solid backbone for organizations that are in a digital transformation process.

In Athens, Marius pictured a short overview on innovation and its core goal: to increase operational efficiency, discussing how it impacts the market in 4 ways: Architectural, Disruptive, Incremental or Radical. He also covered multiple types of innovative cloud solutions.
There are multiple innovative solutions, depending on the client's infrastructure:
Serverless - Cloud Run & Cloud Functions solution
Containers - GKE & Compute Engine solution
Cloud Infrastructure - Compute Engine & VMWare Engine solution
Managed Infrastructure - Bare metal solution
Marius Bălteanu's presentation on Innovative solutions - Compute options
After an in-depth analysis of multiple case-studies on Zitec cloud clients such as Flip, Adore Me, Tomra, and many more, Marius underlined the huge potential for cost optimization in cloud, using on the following mechanisms: Sustained Use Discounts (SUDs), Committed Use Discounts (CUDs) or Enterprise Discount Plans (EDPs).
The Google Cloud platform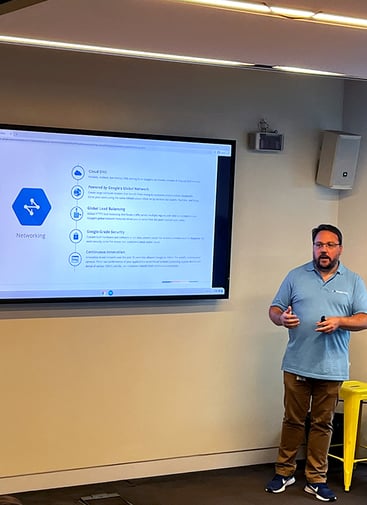 Alexander Papantonatos, Google
Alexander Papantonatos, Customer Engineer at Google, is an IT engineer focused on infrastructure and cloud technologies. Having over 15 years of experience in various consulting and management roles, Alexander shared information about the Google Cloud platform.
Google's strategy is based on four core pillars, revolving around the cloud needs of their customers: Data Cloud (Intelligence), Open Infrastructure Cloud (Freedom), Trusted Cloud (Protection), and Collaboration Cloud (Connections).
All types of companies (e.g. startups, SMBs or enterprise) can use Google Cloud and benefit from its Functional Solutions.
Google Cloud offers state of the art security. It is secure by design, it offers high data protection and is the only cloud that encrypts 100% of data at rest across all platform services by default.
Google Cloud Platform delivers a variety of storage options, including SQL, NoSQL, Blob, and Block.
Compute options in Google Cloud: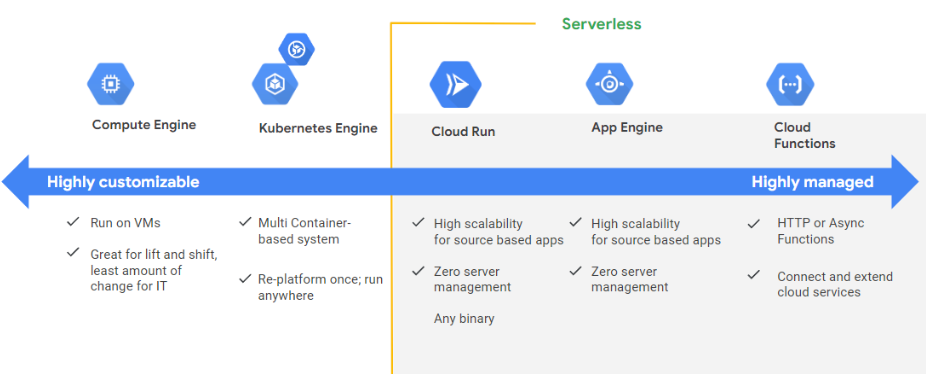 Alexander Papantonatos' presentation on Compute options in Google Cloud
Alexander introduced Anthos to the audience, a Kubernetes-based platform with a cloud-backed control plane for centralized management. It allows users to build and manage modern hybrid and multi-cloud applications without infrastructure lock-in.
The generative AI opportunity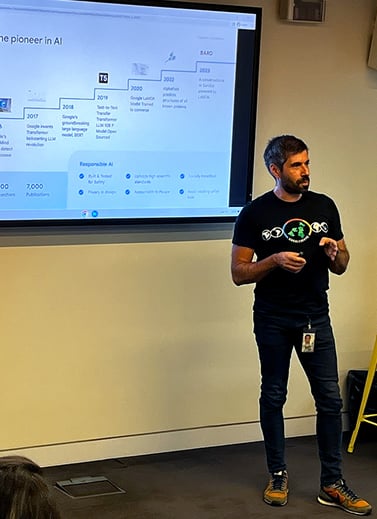 Panos Kafantaris, Google
Panos Kafantaris, Partner Engineer at Google, has more than 11 years of experience in presales and technical account management for Service Provider and Media/Broadcast accounts. He reminded the public how Google has been a trailblazer in the field of AI, right from the time they began developing Google DeepMind, their subsidiary dedicated to artificial intelligence research.
While consumers and enterprises have different needs, Google's services ensure that every demand is met, while differentiating from the competition.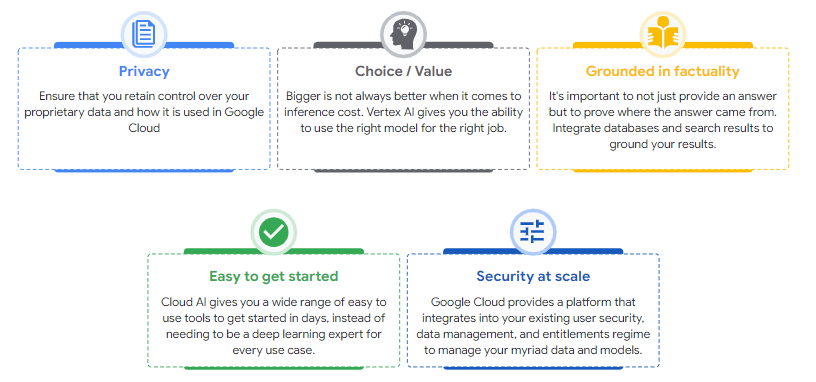 Accelerating optimization with Google's services
Google Cloud AI Portfolio supports the needs of Generative AI centric enterprise development.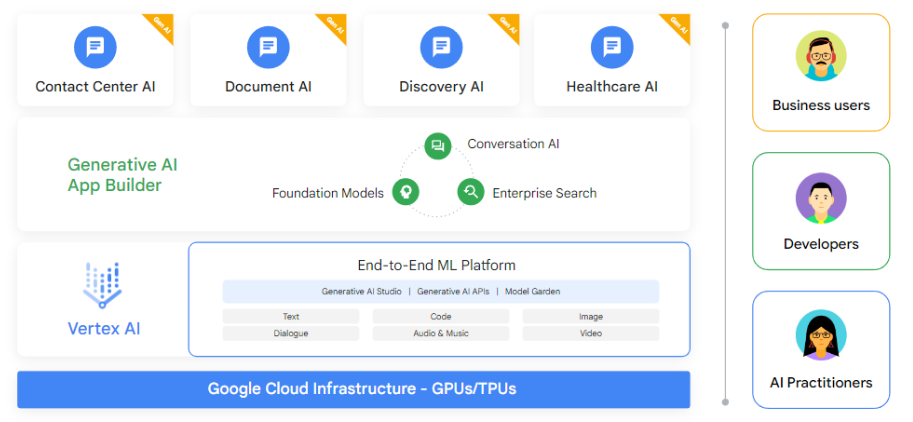 Generative AI centric enterprise development
There are multiple use cases for Generative AI: Public Website Navigation; Product/ Content Catalog Discovery; Intra-Knowledge Q&A; Business Process Automation; Regulatory Compliance; Documentation Generation; Customer Service Automation; Product/ Content Recommendation; Document Search & Synthesis; Creative Assistance; Research Acceleration; Developer Efficiency.
The cloud event that took on social media
We took great pride that we made our first international event hosted together with Google Cloud possible. Since we wanted to provide a deep understanding of the latest innovation in Google cloud, the event had massive exposure on social media.
Thank you Zitec and Google Cloud's experts for taking us through the power of Cloud Infrastructure, Big Data, AI, innovation, cost optimization, and business growth.

Manos Markakis,
Presidentat Greek EMS Union - Association of EMS devices' Owners
LinkedIn post
It has been a real pleasure to have Zitec presenting how they have helped organizations innovate through Google Cloud services. We would like to thank everyone that participated and we cannot wait to address your challenges through our partnership.

Yiannis Papazoglou
Channel Territory Manager, Google Cloud
LinkedIn post
Greece offered the perfect opportunity for networking and establishing meaningful connections with the industry experts. Our gratitude and appreciation go to the participants and to our speakers who shared their valuable insights and perspectives.
Through this close collaboration and partnership with Google Cloud, we aimed to allow IT experts and business owners to expand their knowledge on cloud innovation and optimization, as well as to create an environment where ideas could be exchanged freely. Check out Zitec's official LinkedIn and Facebook posts to capture some of the event's vitality, as we've felt it firsthand.
In honor of our 20-year anniversary, we're helping 4 companies build their personalized and comprehensive Tech Business Optimization Plans. We launched this program at our event in Greece, and the offer is available until August 31st, 2023.
We are offering four €5,000 Vouchers for Zitec Services, totaling a grand €20,000. The Tech Business Optimization Plan can include:
Tech Performance Audits
Cloud & DevOps Assessments
Security Assessments & Scans
Data Analytics
Contact us if you want to address your infrastructure challenges and empower your business through cloud.