In today's fast-paced world, having a solid and trustworthy online presence is essential to the success of any business. The digital landscape is constantly changing and businesses need to stay ahead of the curve to remain competitive. That's why the Digital Marketing team of Zitec is excited to announce their upcoming in-person event that will happen on June 13th.

This event is designed to help every attendee to develop the skills and knowledge they need to thrive in the digital environment. We will bring together industry experts and thought leaders who share insights on the latest trends, best practices and strategies for achieving success in their digital marketing campaigns.

Participation at our event is free to anybody willing to discover actionable insights and best practices. Our speakers, experts from Zitec and OTP Leasing, will dive deep into the most effective strategies and why they should be designed differently for each business. Do not miss out on the opportunity to save your seat in the form below.
Join a live event where you can discover the most effective
strategies for achieving business success.
About our speakers
Ivona Roșca - the mastermind behind successful digital marketing strategies for both local and global clients. As Head of Strategy at Zitec's Digital Marketing division, Ivona leads a team of experts to provide clients with the most relevant and impactful advice to help them grow their businesses online. With over 11 years of experience under her belt, Ivona is the go-to expert for those seeking to skyrocket their online presence and achieve incredible business results.

Alina Ciotârnel - a powerhouse, with over 13 years of experience in the field. As Head of Media at Zitec's Digital Marketing division, Alina has a deep understanding of the constantly evolving media landscape and a passion for keeping up with the latest trends and technologies. She is a data analysis expert, constantly testing new strategies and optimizing campaigns to ensure her clients' success is never compromised. With Alina on board, you can rest assured that your digital marketing game is in the best possible hands.

Steliana Moraru - our special guest is the Chief Operating Officer at OTP Leasing Romania.
She has a diverse background that encompasses business management, digital transformation, marketing and corporate social responsibility. With a wealth of experience and knowledge, she brings valuable insights to the table. But Steliana isn't just a master of her craft; she's also a passionate mentor and speaker, eager to share her expertise on a range of topics, including the exciting world of digital marketing. Whether you're seeking guidance or inspiration, Steliana is sure to deliver!

Our speakers will show you how to leverage strategies to drive traffic, increase online visibility and grow your business. They will share tips and tricks on how to measure your success, analyze your data and optimize your campaigns for maximum results.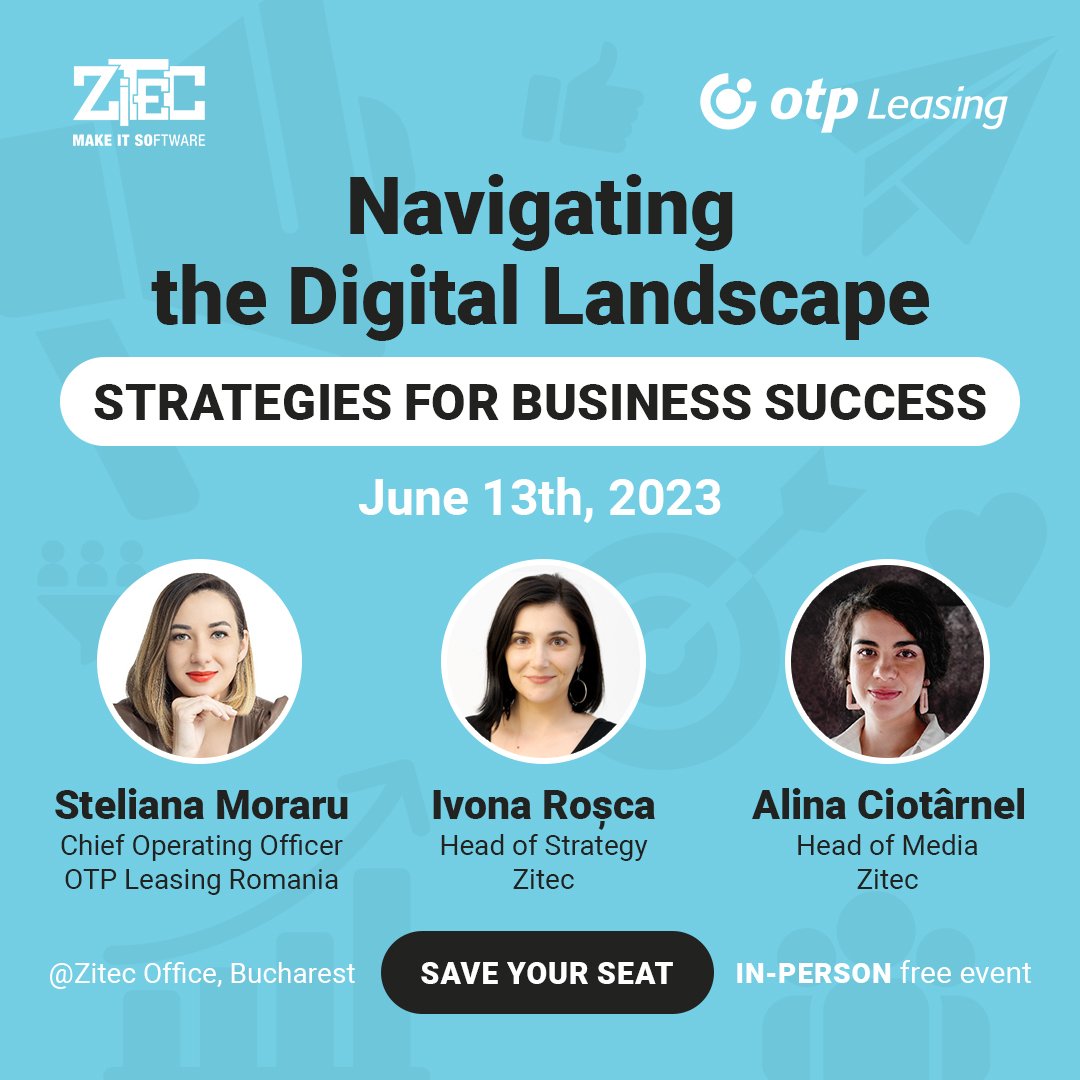 Get valuable and actionable insights
You will get valuable insights and actionable tips you can apply to your business. You'll leave with a deeper understanding of the digital landscape and the skills and knowledge you need to succeed in today's competitive market.

But that's not all! You'll also have the opportunity to network with other business owners and marketing professionals and connect with our team of experts for personalized advice and guidance. Whether you're looking to expand your knowledge or take your business above the edge, this event is not to be missed.

In a world where businesses strive for a solid online presence, it's crucial to have an effective digital marketing strategy that sets you apart. To stay relevant in today's digital landscape, you need to stand out and tailor your approach to fit your unique business needs.
You will learn about the strategy behind choosing the right
digital marketing channels for maximum impact.
Join our team of experts, along with our special guest from OTP Leasing, and find out more about the most effective strategies in online marketing. We'll show you how to create a standout digital presence that drives results. It is an exciting chance to elevate your business to new heights, so be sure not to miss it!