VTEX DAY has become the largest event dedicated to retail and innovation in Latin America. Now into its 10th year, the event brought together in São Paulo on April 12&13 almost 200 corporate exhibitors, 190+ speakers, and over 14,000 attendees interested in eCommerce trends, technology, and digital transformation.
As a trusted VTEX implementation partner, we gladly accepted their invitation to be a part of this rewarding experience and share in the knowledge and opportunities it yielded.
Stories that drive eCommerce growth
The two-day event was jam-packed with high-impact keynotes given by world-renowned experts, thought-provoking panel discussions, and practical demonstrations of digital solutions that move retail and eCommerce forward, as well as lots of networking opportunities and fun activities. You couldn't turn around without hearing a chat, presentation, or a product demo revolving around VR, cross-border shipping, cryptocurrencies as payment methods, conversational commerce, or live shopping.
One of the highlights of the event was Sir Lewis Hamilton's inspirational talk. The most decorated F1 driver of all time spoke about his career journey, emphasizing themes like human resilience, how to stay focused and positive in the midst of adversity, that many entrepreneurs could learn from, given the competitive retail market out there. Scott Galloway, a serial entrepreneur and NYU professor, addressed innovation, big tech, and how businesses can grab market share and create opportunity in a post-pandemic world. With a great mix of data and stories, complemented by his signature humor, Galloway shared his predictions for the economy, pointing out the huge opportunity Latam countries hold for digital commerce.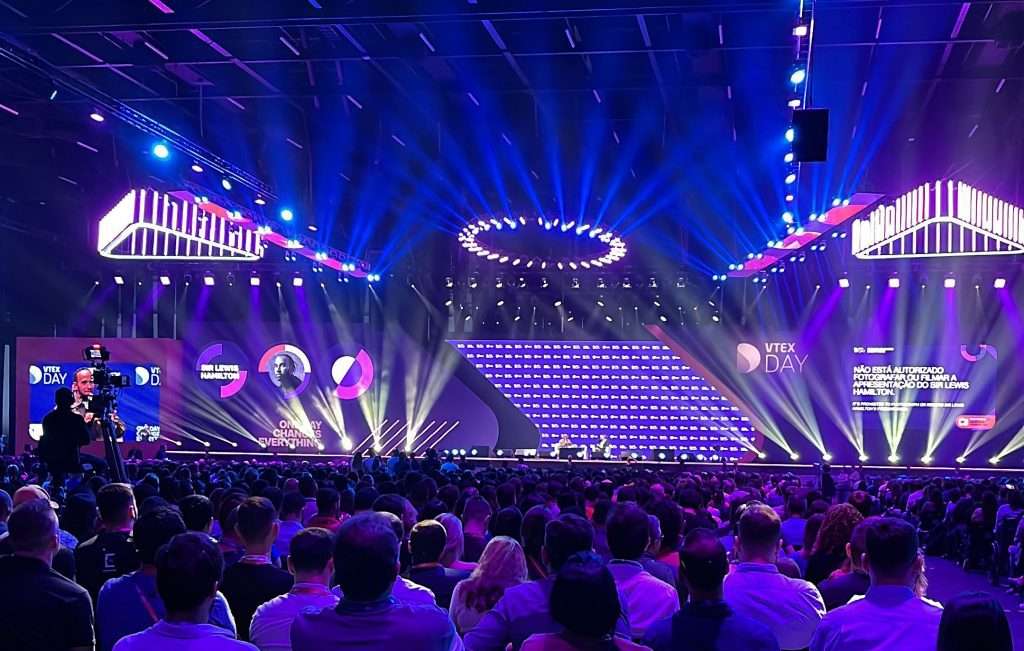 Other noteworthy sessions were that of Tom McFadyen, CEO McFadyen Digital, who emphasized how to drive scale with the retail marketplace because connecting your store in a marketplace is essential to capture all eCommerce potential. David Schonthal, business school professor and venture capitalist, explored the reasons why innovation fails and how businesses can still move the needle by using the failure factor as a catalyst for change.
Digital commerce is an exciting market where innovation is the only constant and recipe for success. With the ever-changing consumer preferences, the future will be all about differentiation and customer expectations. One of the most important takeaways was that now, more than ever, businesses need to place a customer-centric culture at the heart of their eCommerce digital transformation processes. Retail needs to become more immersive and engaging, and creating shopping experiences that can compete with in-person ones will be the driving force behind its projected spectacular growth.
One day changes everything
Running under the motto "One Day Changes Everything", VTEX DAY is defining the next steps of commerce, leaving its mark on the future of retail.
Apart from the rich, high-impact content, VTEX DAY was also perfect to stay up to date with market-disruption tools for exponential growth and innovative solutions in the eCommerce space. Tapping into the event's highly qualified audience, I enjoyed the incredible networking opportunities, built new relationships, explored new markets, and brought home innovative ideas on eCommerce.
With a presence in 13 countries and used by over 3,200 online stores, VTEX is a fully integrated, end-to-end commerce solution with native marketplace and OMS capabilities. Since 2019, Zitec is a VTEX implementation partner, working with companies to implement and deploy B2C, B2B, and marketplace projects on the VTEX collaborative commerce platform, creating better customer experiences and opening new revenue streams.
Ready to experience eCommerce without limits? Get in touch!