For the past ten years or so, cloud computing has become the standard way of doing business, for both small- and large-scale organizations. The cloud has replaced conventional operating models that were highly demanding from a resource perspective. Today, ambitious startups and corporate enterprises store, sell and manage their digital assets by employing an external cloud computing service provider.
Microsoft Azure is one of the most widely used and trusted cloud services worldwide. Powering a business with services like Azure makes sense not only from a resource and environmental standpoint, but it is also the safest way to grow a business organically.
Yet there are misconceptions surrounding cloud services and one of the most common ones is perhaps also the biggest cause for concern.
Cloud security is essential for the wellbeing of any organization and service providers like Microsoft make constant efforts to always maintain cloud security at the highest level.
Some companies wrongly assume that the security of their cloud lies entirely within the provider's responsibility, but this is an assumption that can come with a great cost.
The truth about cloud security is that it is a shared responsibility between the service provider and the customer. It is therefore essential that each organization have a dedicated expert or team that are up to date with the major security risks surrounding cloud computing.
Cyber crime
It is probably the most obvious security threat, but not necessarily the biggest. We all know it happens every day and we occasionally hear about a major security breach on the news. The truth is the complexity of attacks is at an all-time high and they are becoming increasingly hard to prevent and defend. Public clouds are the most vulnerable targets by far.
Identity management
Crucial security breaches often happen from the inside. Think of a cloud as a crowded building. You want to make sure that only certain people have keys to certain doors, and not leave them open to anyone curious to peek. In a similar way, identity management is hugely important in any organization, as you need to be aware of who gains access to the cloud environment and what they can do once inside. It is one of the most preventable security threats.
Fast changing workloads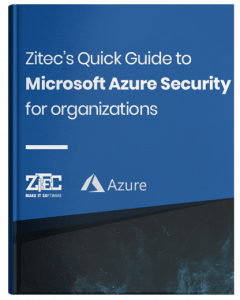 Ways of working are constantly subject to change in most organizations, fueled by the quest for more efficiency and better resource management. However, regularly changing processes, services and operating models can affect security, as it becomes increasingly difficult to keep it at a constant high standard.
The list of potential vulnerabilities when using cloud services is of course longer and this is only a quick overview of some of them. Zitec is a certified Microsoft Partner, and our highly skilled security team has written an eBook that covers the topic of Microsoft Azure security in detail. If you have any questions regarding Microsoft Azure or cloud security, send us a message and we'll be happy to discuss your security requirements.
Let's talk about your project
Whether you are looking for a technology partner to drive your company's growth or a security provider to safeguard your assets, our team would be happy to assist you with your challenges.