Join us on March 29th at Zitec's office for our Digital Consumer Trends 2023 event. Do not miss out the latest insights and trends in eCommerce, social media and digital marketing.
There is nothing more exciting for Zitec's Digital Marketing team this spring than to unveil the fresh results of the latest 2023 Consumer Behavior Study carried out in collaboration with Ipsos using its innovative automated DIY Ipsos.Digital research tool.

We've prepared a little preview of some of the findings in the text below, but the results will be fully disclosed live, during our Digital Consumer Trends 2023 Event, which will be held on March 29th at Zitec's headquarters.

The event features presentations from three top experts in the industry, and participation is free to anybody willing to gain a competitive edge and stay ahead of the curve in the digital marketing landscape. Just make sure you save your seat in the form below.
Join a live event where you can learn about the most recent developments in consumer behavior and digital marketing.
About the speakers
Ivona Roșca, Head of Strategy Zitec, has over 11 years of experience in creating successful digital marketing strategies for local and international clients. Ivona leads the Strategy department of Zitec's Digital Marketing business line, providing clients with the most relevant information on how they can grow their businesses online.

Mihăiță Pașcaniuc, Creative Director Zitec, will also take the stage. With over eight years of experience in the field, Mihăiță leads the Creative department of the business line, which helps clients convey their marketing messages in the most original ways.

The special guest of the Digital Consumer Trends 2023 event is Gabriel Eremia, Marketing & Product Management Director, Arctic. Gabriel is a marketing and product management leader with over ten years of industry experience and a proven track record of developing and executing integrated marketing, communications and product management plans.

The experts will talk about the role of digitization in the purchase process, the behavior of consumers in the online environment and the factors that influence their purchase decisions.
The latest online consumer trends study, a small preview
Social media remains an important tool for brands looking to tell their stories and promote their offerings in 2023. That's because 93% of Romanians spend at least one hour a day on Social Media and 21% spend even more than 4 hours.

The study was carried out in Romania in February 2023 on a sample of 500 people aged between 18 and 55. The results reveal that Facebook remains the most popular social media platform, with a usage rate of 86%, followed by Instagram (69%) and TikTok (61%). The last one registered a significant increase in the preferences of Romanians compared to the previous year (+20%).

Twitter has gained more and more popularity in recent months. The platform recorded a weekly usage rate of 30%, surpassing LinkedIn. In comparison to the statistics from 2022, LinkedIn was ranked in the 4th position with 29% on the usage leaderboard, while Twitter was at 27%.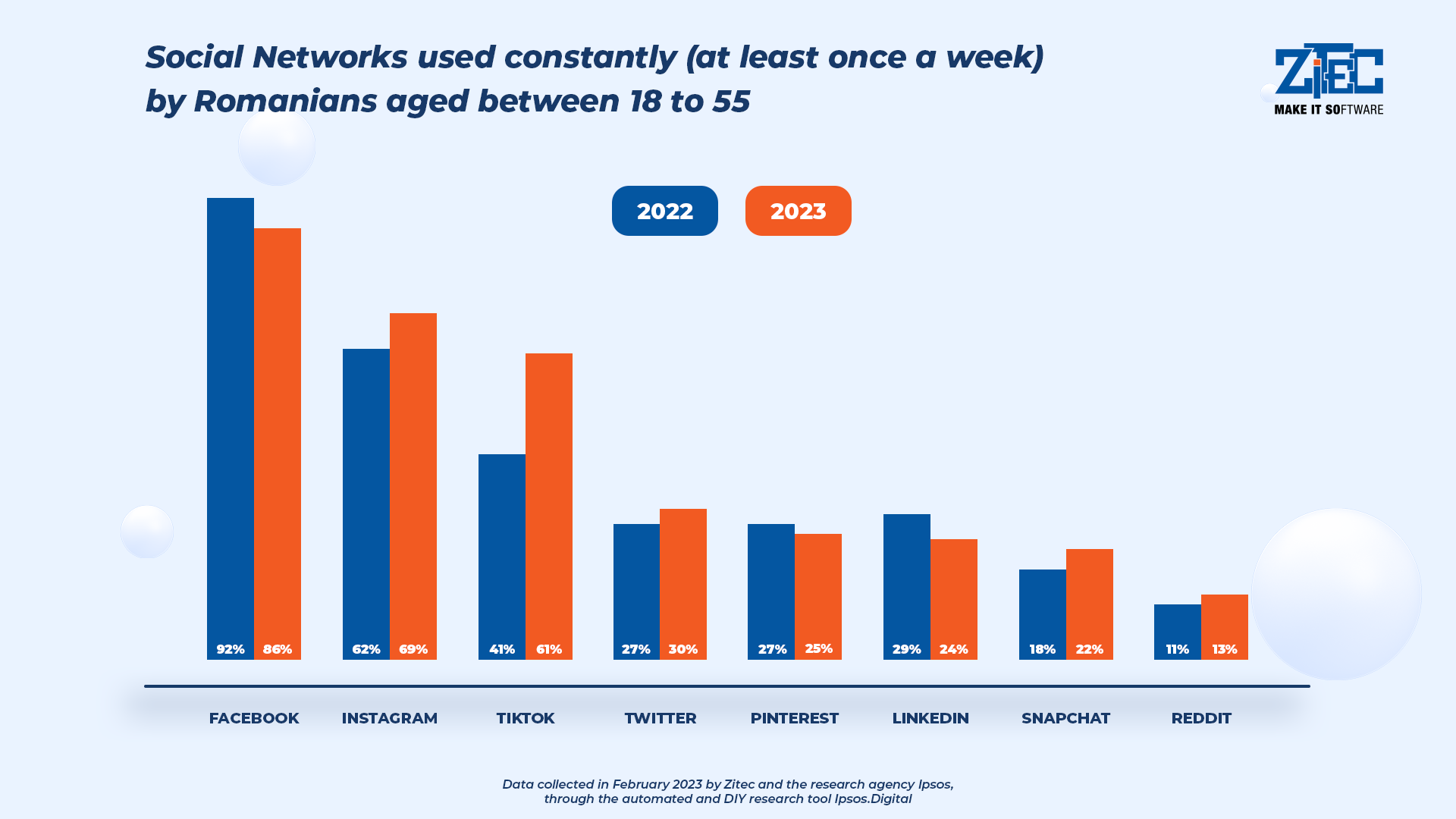 Also, a significant 48% of Romanians spend more than three hours daily, on average, on social media platforms. This is a huge opportunity for brands to establish their presence in the minds of consumers.
We conducted this study to analyze user behavior and develop marketing strategies that align with their current needs and values. Consumer consumption patterns change every year, driven by economic conditions, advancements in technology and market trends. We aim to continuously stay abreast of consumer demands and offer them the content they need to make informed purchase decisions. The most effective way to address the needs of consumers is by reaching out to those who actively seek it.

Dan Toma, Digital Marketing Director, Zitec
The study also revealed that 68% of participants follow at least one celebrity or influencer on social media, while 43% have discovered or bought new products promoted by influencers. These results highlight the significance of incorporating influencers or public figures that align with a brand's values, mission and philosophy into an online marketing strategy. This approach helps businesses target their audience effectively and enhance their brand's online presence.

Furthermore, the results show that more than 60% of Romanians predominantly consume video content online. Additionally, the data demonstrated that products showcased in video format, with a realistic portrayal and minimal use of editing or special effects, were perceived to be more trustworthy by the Romanian audience.

However, brands must ensure that their online ads are targeted correctly. Just 29% of Romanians who participated in the study felt that the ads they saw online were relevant to them. Also, 57% of Romanians said that they preferred to see ads that entertained them or helped them unwind. As opposed to this, 48% least favored ads that seemed to promote a political agenda.

The study also found that 61% of Romanians focus on price when choosing a brand, and the current economic situation has a significant impact on consumption patterns.

In terms of online shopping trends, the percentages vary significantly depending on the category of items such as food, clothing, or electronics.

When it comes to online shopping, the study revealed that Romanians prefer physical stores for food (83%), but only 58% for clothing. In contrast, when it comes to electronic products, 59% of Romanians prefer to order them online.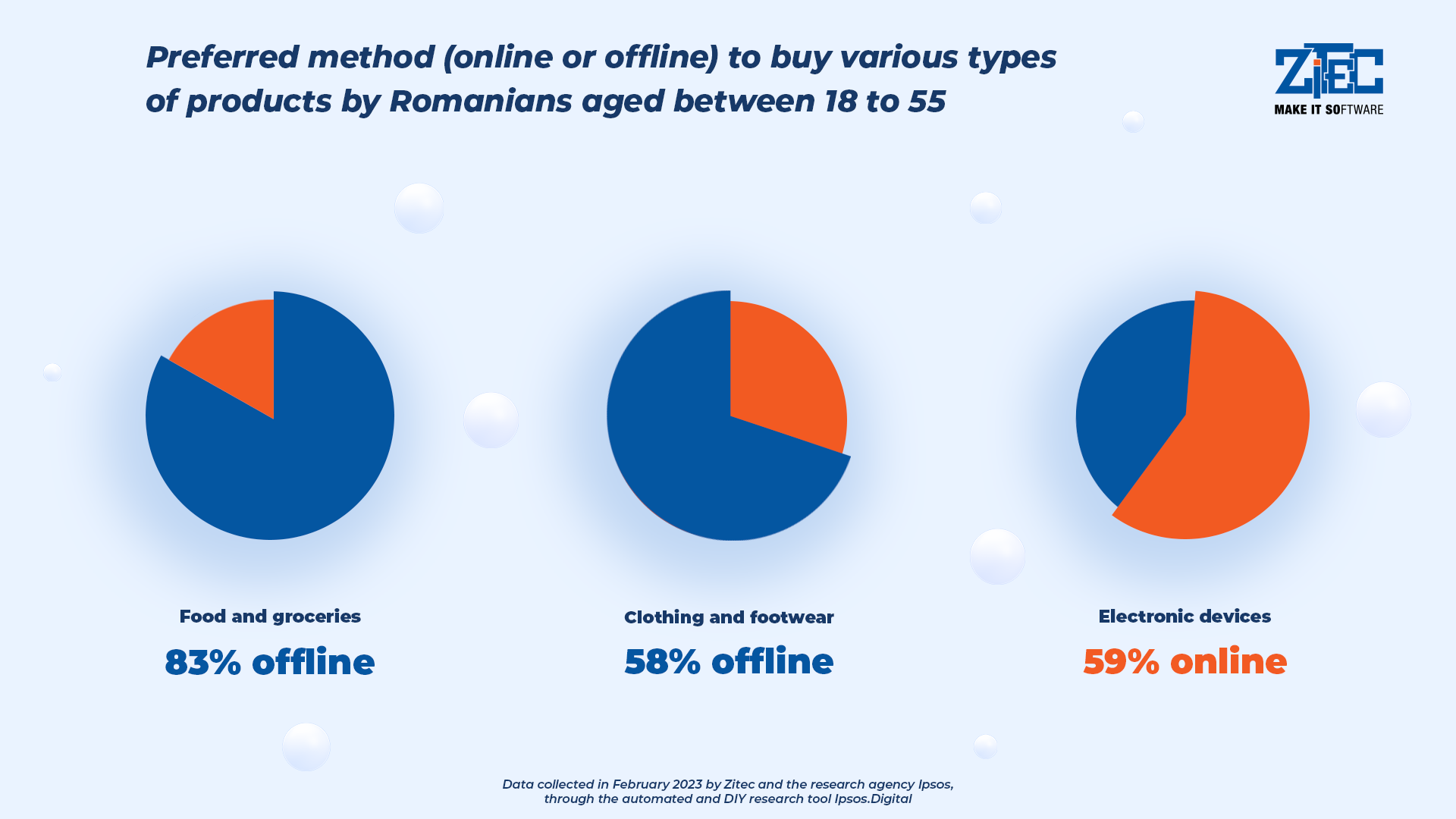 According to the Zitec x Ipsos study, online ads have a strong impact on purchase decisions. 50% of the participants indicated that they had purchased products or services after seeing an online ad, even if they were not previously familiar with the brand. However, despite the influence of ads, 91% of respondents say that they sometimes or quite often conduct online research before making a purchase.

To build trust with Romanian consumers, brands should provide detailed product information, images, and customer reviews. The study shows that consumers tend to seek product information primarily through video presentations, followed by written descriptions, and that 90% of them consider the inclusion of a 360-degree image on a product page as an influential factor in their purchase decision. Moreover, the number of product images on a website plays a vital role, as 85% of consumers prefer to find more than five images for a single item.

Romanians' consumption behavior is significantly influenced by the economic situation. According to the study, they tend to opt for online purchases only after acquiring a comprehensive understanding of the products. The results show that Romanians tend to buy products online primarily after reviewing feedback from other customers. Additionally, they hold a positive perception of products that have a solid presence on social media or are endorsed by influencers or celebrities they follow or they admire.
You will learn about the most recent developments in consumer behavior and digital marketing, as well as how these trends will influence digital marketing strategies in 2023 and beyond.
By attending the Digital Consumer Trends 2023 event, you will have the opportunity to discover the latest trends shaping consumer behavior, a very important aspect when it comes to creating effective Digital Marketing strategies.