We're incredibly proud to announce that we have been recently named one of the fastest-growing companies on Clutch, within the Top 100 Sustained-Growth companies ranking. We are excited to share and celebrate this outstanding recognition with all of you!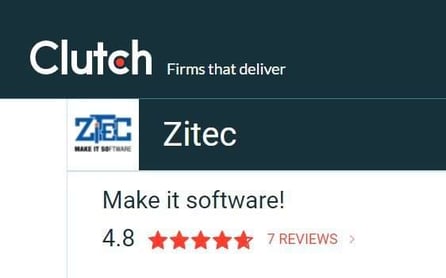 Clutch is the leading B2B ratings and reviews platform based in Washington, DC, which evaluates technology services and solutions companies based on the quality of work, thought leadership, and client reviews.
According to the 2022 list of Clutch leaders, Zitec is one of the top 100 companies with sustained growth, based on the absolute revenue growth from 2018 to 2021, and one of the top E-Commerce solutions and services providers in Romania.
"We're delighted to be featured in Clutch's Top 100 for enabling clients in Romania and worldwide to transform their business through technology and digital solutions! It is a great honor for Zitec to receive this recognition as a top partner for digital transformation!"

Alexandru Lăpușan, CEO and Co-Founder, Zitec
Zitec's growth plans
In 2021, Zitec registered a turnover of EUR 17.9 million, increasing by 68% compared to the previous year. Over the last three years, the company's evolution has continued on an upward trend, reporting an average annual business growth rate of 52%.
Moreover, Zitec's Digital Marketing Division generated revenues of EUR 2.25 million in 2021, an increase of almost ten times in the last three years. Its Digital Marketing team has grown more than threefold, from six members in 2018 to 26 today. Similarly, Zitec's eCommerce division, one of the strategic business lines within the company, has seen an increase in revenue of over 60% last year compared to the previous year. The eCommerce division doubled its number of customers in 2021 compared to 2020, grew its team by about 30%, and focused on developing and improving marketplace and B2B solutions for partner customers. For 2022, Zitec aims to increase eCommerce revenues to EUR 1.5 million, consolidate and diversify the customer portfolio, and grow the team by 40%.
We want to take this opportunity to thank our clients and partners for their continued support throughout the years. Thank you for choosing Zitec to handle your digital transformation projects!
We are happy to answer any questions you have or talk about your project. Just send us a message, and we will get back to you shortly.