2022 was truly a remarkable year. We delivered extraordinary financial results and achieved end-to-end value for everybody: our clients, partners, people, and community.
Using what we consider to be the main forces of change for the coming decade - total enterprise reinvention, talent retention, security, sustainability, and the continuous technological revolution - we've been guiding and supporting for almost 20 years now top enterprises and scale-ups from all over the world, as well as the Romanian public sector, to create 360° value.
In 2022 we were recognized as the Company of the Year by ANIS Gala România. In the following lines, we're going to share exactly how and what we did to deserve the honor, and, by the end of this text, offer some perspective on the plans we made for 2023.
Before catching up with the entire context, you can see what 2022 looked like in numbers, in the following infographic (please open the image for more information):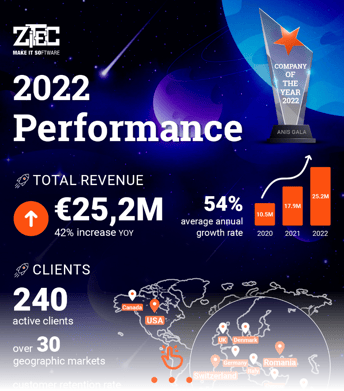 Business, Partnerships and Growth Overview
Business Success
In 2022 we registered a customer retention rate of 82%, exceeding the 77% industry average for IT & Software, 45 new customers, and €25.2 million in revenue, an increase of 42% compared to the previous year.
We cater to 240 companies in over 30 countries, making use of our extensive two decades' worth of experience in technology and development to help them seize the value of digital transformation: operational efficiency, faster time to market, and meeting customer expectations.
The Manifest recognized Zitec as one of the Global Dev & IT industry frontrunners for 2022, being in the top 15 Cloud Consulting Companies in the world that received the most Clutch reviews in the past 12 months. Discover our Clutch profile and read our clients' reviews and testimonials from the past year:
The business landscape of 2022 was more competitive than ever, and companies needed to stay ahead of the curve to succeed. This led to increased demand and consequently to a significant YoY growth range of 45% up to 150%, achieved in Zitec by business lines as follows:
Firstly, the need to release software quickly and efficiently to meet market demands led to the increased demand for

DevOps services

. With DevOps, our clients were able to automate the software development process, improve collaboration and the quality of their software.

The adoption of cloud technologies was on the rise in 2022, and

Microsoft Azure Cloud

was one of the popular choices for businesses. Our Azure Cloud skills helped companies reduce infrastructure costs, improve scalability, and enhance their digital transformation efforts.

The rise of cyber threats and data breaches led to an increased focus on

Cybersecurity & Data Protection

. Companies needed to protect their data and infrastructure from attacks, therefore cybersecurity services were in high demand.

The development of mobile apps that work seamlessly with distributed ledger technology was necessary to provide a better user experience and improve security. As a result,

Mobile & Distributed Ledger Development

services were highly requested.

Companies needed to ensure that their software was reliable and functioning correctly to avoid losing customers or suffering from reputational damage.

Continuous Improvement and Maintenance

services

were, therefore, necessary to ensure that software was maintained and improved over time.

Finally, a great deal of companies had to develop new software products, update existing ones, and ensure that their software was compatible with the latest technologies to stay competitive. This led to an increased demand for

Software Development

services.
Digital transformation is indispensable for businesses that intend to remain relevant in the near future. Given the prevailing macroeconomic conditions, they will likely continue facing unique challenges and opportunities to evolve in 2023. Over the last year, we've strengthened our business to make room for even more technology-enabled transformations to help companies stay competitive, protect their data and infrastructure, and meet market and customer demands.
By the end of 2022, we added a new service to our technology portfolio, Data Analytics, designed to assist companies in accessing the potential business value offered by data.
"We had remarkable growth in 2022, thanks to the expansion of the client portfolio, the increase in the volume of current projects, and the team's development and technical proficiency improvement. We focused on the development of our business lines, as well as the creation of new ones, enabling us to deliver complete digital transformation solutions, from digital marketing to data analytics projects, which are essential in the digitalization process of our clients' business."

Alexandru Lăpușan, CEO and Co-Founder, Zitec
Partnerships and Recognition
With around 85% of Zitec's development projects over the last 4 years using cloud computing solutions, in particular Microsoft Azure and Google Cloud, we invested in the consolidation of strategic partnerships with both cloud providers, but also with eCommerce platforms such as Adobe (Magento) and VTEX.
In 2022, Microsoft recognized Zitec as the "Best Cloud Partner" for its performance in driving business impact with Microsoft Azure, while Google granted the organization a "Google Partner Specialization in Infrastructure" certification.
Consolidation of Proprietary Products
Mirro.io
We use our technological capabilities to anticipate forthcoming changes in company culture. Mirro.io, a SaaS solution designed for small and midsize companies that incorporates Zitec's methodology for employee performance management, doubled its user base in 2022 and extended its international footprint to 19 countries.
Designed to solve current and upcoming HR-related issues, Mirro.io launched Culture Insights in 2022, a company analytics feature that aids in the understanding and development of healthy company culture through the use of critical data, with an impact on retention and business performance.
As proof of value, Mirro.io was named a Leader in the G2 Winter 2023 reports for the complexity of the platform's functionality and quality of service in the Absence & Performance Management, Core HR, and OKR categories.
Regista.ro
For 8 years now, we have been laying the groundwork for digitizing the public sector, helping Romanian local authorities reduce paperwork and improve their relationship with citizens. Our tool, Regista.ro, the SaaS market leader that directly contributes to Romania's digital progress with the aim to improve the country's ranking in the Digital Economy and Society Index (DESI), exceeded 1,000 customers in 2022, and received "The Most Coherent Approach to Digitize Romania" award at the "Future Banking Awards 2022".
A couple more milestones reached:
Regista is used in all 41 counties of Romania
60,000+ users utilize the application daily
28M+ registered documents
In 2022 Regista hosted Regista Gala, the first nationwide award gala where municipalities and institutions that have excelled in digitization in 2021 were celebrated and awarded.
Team Growth and Retention Reaching Sustainability
We continued to gain market share, grow profitably, and invest in our business only thanks to our incredible team. Zitec has grown by 54% year on year in total revenue over the last three years, and the team has more than doubled to 339 specialists. This prompted us to establish a clear path for long-term growth, which began with our people.
A leadership essential at Zitec is deeply caring about personal and professional well-being, thus designing an environment that makes everyone feel their lives improve overall comes as a natural effect.
We strive to provide our colleagues with exciting career paths, worthwhile growth prospects, and ongoing learning. As markets and clients evolve, our investment in people and their growth also makes us more flexible in easily approaching or switching to new growth areas.
A total investment of €1,298,000 in upskilling, health, well-being, and community events was made in 2022 alone, with an average total investment per employee of €4175, 58% higher than the market average. €600,000 worth of training hours including courses on topics such as Communication, Leadership, OKRs, and Performance Managers Workshop.
Additionally, psychotherapy at the office and financial education complement our employee package benefits and solve a very dominant need for people to be engaged in conversations that matter; we have dedicated clinicians for our team members and we regularly organize workshops that address pressing subjects on the current economic outlook or personal finance management.
Today, we celebrate the 2022 merits of our insatiable team:
42 new certifications in our team, such as Certified Kubernetes Administrator, ISTQB Advanced Test Analyst, Azure Security Engineer Associate, Professional Scrum Master, Associate Android Developer - Google Certified, Inbound Marketing
25 (of us were) speakers at industry events
We attended 14 local and international events in Bucharest, Dublin, Amsterdam, Malaga, Brussels, Amman, Atena, New York, Sao Paulo
12 new colleagues are now certified to sail and Zitec won 1st place at 2022's Corporate Regatta
With an 85% loyalty rate and an employee engagement and satisfaction level rated as "excellent" in a 2022 internal study, we concentrated on balancing recruiting, onboarding, and training in order to provide stability and avoid the upcoming 2023 tech industry downsizing trend.
For 2023, we will continue to look for specialists from all over Romania to join our team. We estimate 20% growth to cover open technical positions such as Software Developers (PHP, Magento, .NET), QA Engineers, Product Owners, Business Analysts, Agile Project Managers, Scrum Masters, and non-technical roles: Content Marketing Specialist, SEO Specialist, Digital Campaign Specialist, Business Development Specialist and more. Check them all on our careers page.
Check out an inside story: What it means to be a PHP developer at Zitec
We're welcoming future colleagues to:
Our stellar offices from Bucharest and Brașov
Our co-working spaces in partnership with Pluria for Cluj, Timișoara, Iași
Remote work possibility
Giving back
Along the way, we learned we have a common value and urge to contribute. For years now, we invest in a culture where feeling part of a supportive community is a great deal. We create the context for acts of kindness to happen and they grow from within, with many initiatives being brought forward by our teammates.
This is the strategy that we found to be most effective because being kind and caring about the world around you is a lifelong endeavor, not a one-time act. The proof for this is our #cei1024 blood donation campaign: in December 2022 we've counted the 25th edition and over 17,000 saved lives.
Initiated in 2016 by Zitec with the help of the mobile team at the Bucharest Transfusion Centre, #cei1024 contributes to reducing the major blood shortage in Romanian hospitals. Following the 2022 office blood donation sessions, the campaign reached 218 donors, collected over 98 liters of blood, and saved around 654 lives.
Business Outlook
At the start of 2023, we believe the depth and breadth of our services have never been more relevant. We look forward to the future and will continue to learn and capture new opportunities, and deliver digital transformation in operational excellence to serve people and their companies.
For 2023, the company expects organic growth to continue; we intend to strengthen our capabilities in tackling large projects of increased technical complexity and grow our Data Analytics capacity to provide clients with stability and mature processes.
Furthermore, Zitec will look into expansion through potential acquisitions of IT companies as well as enlarging its international footprint and presence in key industries such as Logistics, Finance, and Retail.
For more information, reach out!
About Zitec
One of Europe's largest and most prominent end-to-end software development services companies, Zitec is the digital transformation partner to companies across over 30 countries, such as the USA, Canada, the UK, Romania, Cyprus, Germany, Italy, Denmark, and the Middle East.
Zitec is one of the few Romanian companies certified Google Cloud Premier Partner, Microsoft Solution Partner - Digital & App Innovation, Microsoft Advanced Specialization - Infrastructure Migration to Azure, Amazon AWS Technology Partner, and provider of the VTEX cloud eCommerce solution platform, as well as Adobe Solution Bronze Partner. The company is ISO:9001, ISO:27001, CREST certified, and acknowledged by DNSC as a NIS Security Auditor. Furthermore, The Manifest recognized Zitec as one of the Global Dev & IT industry frontrunners for 2022, being one of the most reviewed Cloud Consultants in the world.