The first independent online hypermarket in Romania, Freshful by eMAG innovates grocery shopping by offering guaranteed fresh and high-quality food, drinks, and household goods for everyday needs. Freshful is committed to overcoming the barriers of online grocery shopping through unhindered transparency, one of the most extensive assortments of fresh groceries, premium and gourmet brands, an excellent online user experience, and a commitment to 99,5% service level on all orders.
Freshful is part of eMAG, the largest online retailer in Romania that gained its unicorn status in 2018 after being valued at USD 1 billion by its parent organization, Naspers, the majority shareholder of the company. The eMAG story began in 2001 with 8 employees and 122 orders (IT products) delivered with 2 Dacia cars. The company developed constantly and diversified its offering by adding new categories such as phones, electronics, or home appliances. In 2011, eMAG first introduced Black Friday to the Romanian market, organizing ever since some of the most successful Black Friday campaigns in the country. Freshful partners with Romanian producers and farmers to reinvent grocery shopping in order to help people live their busy lives to the full, in a smarter way.
THE CHALLENGE
To change consumers' habits and to help them win time in order to live their lives in a smarter way, Freshful by eMAG was looking to offer people the possibility to order online products, from groceries to household items, with only a few clicks. They wanted to save people's time through fast or scheduled delivery of a complete basket of daily shopping. To achieve this, they needed a scalable and feature-rich mobile application that would meet the changing needs of digital consumers and sustain exponential growth in terms of customer base and traffic.
THE SOLUTION: EASING ACCESS TO FRESH GROCERIES WITH A SMART APP
As a long-standing business partner of eMAG, Zitec was delighted to have contributed to this mission by developing the Freshful by eMAG native mobile app for both the Android and iOS platforms. The Zitec team covered the entire mobile app development life cycle, from ideation to delivery, including business analysis, UX/UI design, app store publishing, and then continuous support and optimization.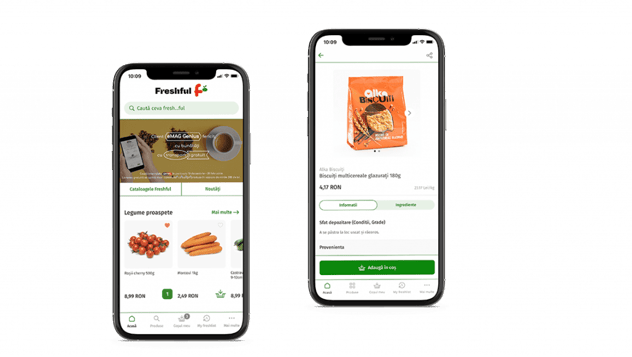 One year after its launch, Freshful by eMAG is a mature, successful mobile app that offers same-day delivery of a variety of fresh, locally sourced, or even international grocery essentials, including both food and non-food products. On Freshful, customers have access to
over 20,000 products from more than 550 local and international producers and Romanian farmers
, together with a variety of eco and organic products. The app provides high-quality product images, for a better view of the ingredients list or other important product details. Moreover, from the comfort of their home, people from Bucharest and the Ilfov county can pick up their groceries and preferred local or international products and have them delivered in the time slot of their convenience. Clients can opt for fast delivery, within 2 hours of placing the order or scheduled delivery.
All this is possible thanks to the scalable and feature-rich app developed by our team, which comes in a sleek design and incorporates all the needed functionalities, such as
real-time stock availability
,
multiple payment options
, and
order tracking
.
FEATURES AND FUNCTIONALITIES HIGHLIGHTS
Our mobile development team developed a series of important functionalities and features for the app, such as:
Product search by QR Code;
Products inclusion to lists of favorites;
Save delivery addresses;
View placed orders;
Payment with Edenred

(one of the few apps accepting payment by meal vouchers card);
Save meal vouchers information

for fast payment;
Open a chat

with a call center operator;
Issue reporting;
"Rețete cu ce vrei"

("Recipes with what you want"): users can simply add to the cart the ingredients for a recipe they love;
App deep links: our team wanted to redirect as many users as possible to the mobile app. Therefore, they made it possible for app users to open more details about a product/promotion/listing when tapping it;
Login by eMag

and set address by geolocation: our team streamlined the authentication process by integrating the eMag SDK of login; for eMAG users, the entire login takes just two taps;
GPS and Google Geolocation Service: to help users set their address as fast as possible.
From its launch in October 2021, 45 functionalities were implemented with the aim to streamline the experience users have with the app. Scan Barcode is the most recent one and helps users quickly order their favorite products. Customers can use their phones to scan the barcodes of their favorite products they want to order. After scanning the code, if the product is in the Freshful portfolio, the customer is directed to the product page from where the product can be added to the shopping cart. The functionality is only available on devices that have an incorporated camera.
THE BUSINESS OUTCOME: FRESHFUL BY EMAG IN NUMBERS
In one year after its launch, Freshful by eMAG registered exponential growth and popularity among customers, suppliers, and producers alike. On the app level, new features and sections were added to meet the needs and expectations of the entire Freshful ecosystem of customers and suppliers. In numbers, the app built by Zitec and further improved by the Freshful by eMAG team registers impressive results:
100,000+ downloads;
45 new features;
55.000+ unique customers (of whom 94% are service promoters); ​
550 local and international producers.
Since 2011 we've been creating digitally transformative, scalable, and feature-rich native apps for Android/iOS devices and cross-platform mobile solutions using the latest technologies and frameworks. If you're looking to build your first mobile application, whether it's a consumer app that users will love, a transformative enterprise solution, or just to modernize your existing mobile solutions, we have you covered with the entire mobile app development cycle.
Feel free to get in touch for a quick chat if you want to learn more about this project or explore how you can accelerate your business with mobile app development.