For the past years, the sale of used and refurbished products has become a very important trend worldwide. This model of production and consumption, also known as circular economy, involves sharing, leasing, reusing, repairing, refurbishing, and recycling existing products as long as possible. It further aligns with strategic sustainable development principles approached by organizations of all types all around the world. Western countries, such as the US, France, and Germany, are among the first to embrace circular economy, especially in the smartphone segment.
The global market for refurbished smartphones is growing and will reach 351.6 million units, with a market value of USD 65 billion in 2024, according to IDC estimates. Refurbished electronics are more affordable and more environmentally friendly than new products. Moreover, the devices on the dedicated marketplaces have an average failure rate of about 4% and are in a very attractive position as a durable and reliable alternative to buying new devices.
Flip and the local refurbished electronics market
Flip is an important player in the refurbished electronics market in Romania. Its marketplace model implies the buying, checking, and selling of refurbished phones, the company being one of the most promising circular economy startups in Romania, with operations in the Bulgarian market as well. It was launched in 2019 by 3 young entrepreneurs, George Moroianu, Alin Luca, and Alex Bughelia, and reached over 80.000 customers in less than 2.5 years from launch. Recently, the company attracted an additional EUR 6.5 million investment from eMAG Ventures with the aim to become a leader in Central and Eastern Europe in the refurbished products market and expand globally. With this investment, Flip marks the fastest performance of a startup supported from its early beginnings by Techcelerator, an acceleration program for technology startups in Romania and South Eastern Europe.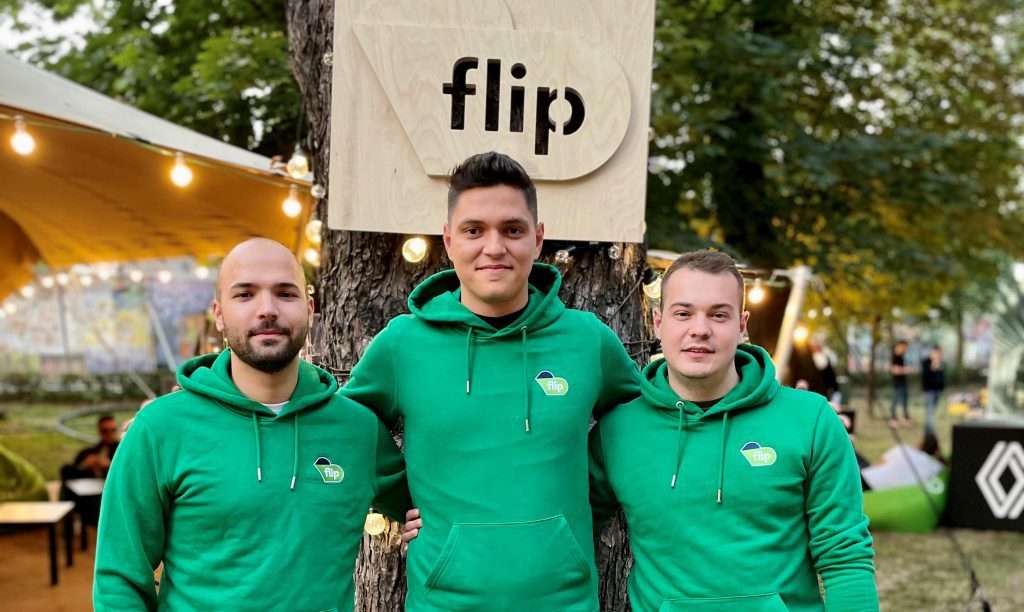 With Flip, people can monetize the smartphones they no longer use, which encourages sustainability and a healthier approach toward the acquisition of new products. Flip solves the security and warranty issues faced by both sellers and buyers of used products sold through marketplaces. Due to their efficient process of verification and refurbishment, sellers get their money, while buyers receive a phone almost like new. By serving both sides of the market really well, Flip succeeds in ensuring trust in the entire process of buying and selling and, with this, healthy and strong business growth.
The business challenges
On the technical side, Flip's journey to becoming the main marketplace for refurbished products in the region was paved by a strong 3 years partnership with Zitec and our development team. As the business grew exponentially (±500% YoY growth in revenue 2020 vs. 2021), the company needed a way to further sustain accelerated growth and scale the development process. With high traffic during peak times (i.e. Black Friday) and a cumbersome collaboration across teams, it became necessary to better accommodate teams and improve existing functionalities like payments, delivery, and authentication.
Another challenge was related to certain constraints on the platform. The microservices architecture wasn't previously separated on the basis of business processes but on front-end, back-end, admin, and shop. When the implementation of a certain functionality was split among different teams, this implied multiple releases and, overall, a complicated and time-consuming development process.
The solution: a scalable infrastructure
Our team started with an assessment of the existing infrastructure, which revealed an important starting point. The idea was to bypass the initial constraints of the architecture through a microservices approach that aimed at separating responsibilities for different teams, this way ensuring faster releases.
The Zitec development team performed multiple framework updates, increased the level of observability for the architecture, and optimized other functionalities in order to sustain an accelerated growth of the business and ensure further improvements as the business expands. In addition, we've been involved in the 2021 Black Friday campaign by auditing, improving the potential weak spots, and being on-call just in time for the peaks in volume and traffic.
The business outcome
Thanks to the support of our software development team, flip.ro platform has so far been able to sustain the accelerated growth of the business, allowing Flip to become the leading market player in the Romanian refurbished electronics market, with a favorable outlook to replicating the success in the entire Central and Eastern Europe region thanks to the recent launch in Bulgaria.
In 2021, Flip registered EUR 13,4 million in revenue, a ±500% YoY growth compared to 2020. Their Black Friday 2021 campaign had a major impact on their annual growth rate as the Zitec team was there to help with preparing for the big day.
We're happy to have counted on Zitec in our journey to change the way people buy and sell refurbished phones. Through our collaboration over the years, we've been able to respond to the growing demand for refurbished electronics, increase customer satisfaction and sustain an accelerated growth of the business. Their experience in complex projects and strong client portfolio have been decisive in choosing Zitec as a strategic partner for development services.

Florin Bombeanu, Chief Technology Officer, Flip
If you want to learn more about this project or Zitec's capabilities in software development, feel free to send us a line.