The emergence of new technologies and the shift in user's behavior have shaped the scope and usability of mobile apps. Mobile phones have morphed from basic communication tools to portable computers and mobile-first business approaches have become a prerequisite for staying top of mind for customers and maintaining strong industry advantages ahead of competition.

To explore this even more, together with our partners from Freshful by eMag, we met during an on-site event at the Zitec headquarters to discuss the advantages of mobile apps. Thus, during our live event - The 3 C's of mobile apps: cost-efficiency, customer loyalty, competitive advantage -, business professionals & mobile solution experts gathered to delve into how to streamline business flows, build customer loyalty, create value and competitive advantage through mobile apps.
Discover further a summary of 3 directions brought up by our speakers to inspire how you can drive your business forward with mobile apps.
Enhance business process flows through mobile apps
Alexandru Marin, Lead Mobile Engineer at Zitec, tackled the usefulness of mobile solutions in operational processes and business flows. He showed how mobile apps boost productivity because they assist the implementation of automatic processes, which leads to cost reduction and efficiency. Also, they provide access to real-time data to improve the decision making process, as well as guided intervention whenever an error occurs. Mobile apps can send you push notifications regarding the system issue and thus, help you reduce errors by adhering to standardized procedures.
A mobile device is an entry point of the system, as it constantly collects data. It usually comes with many capabilities and sensors, with specific uses. These sensors can be leveraged on internal apps to facilitate one's activities.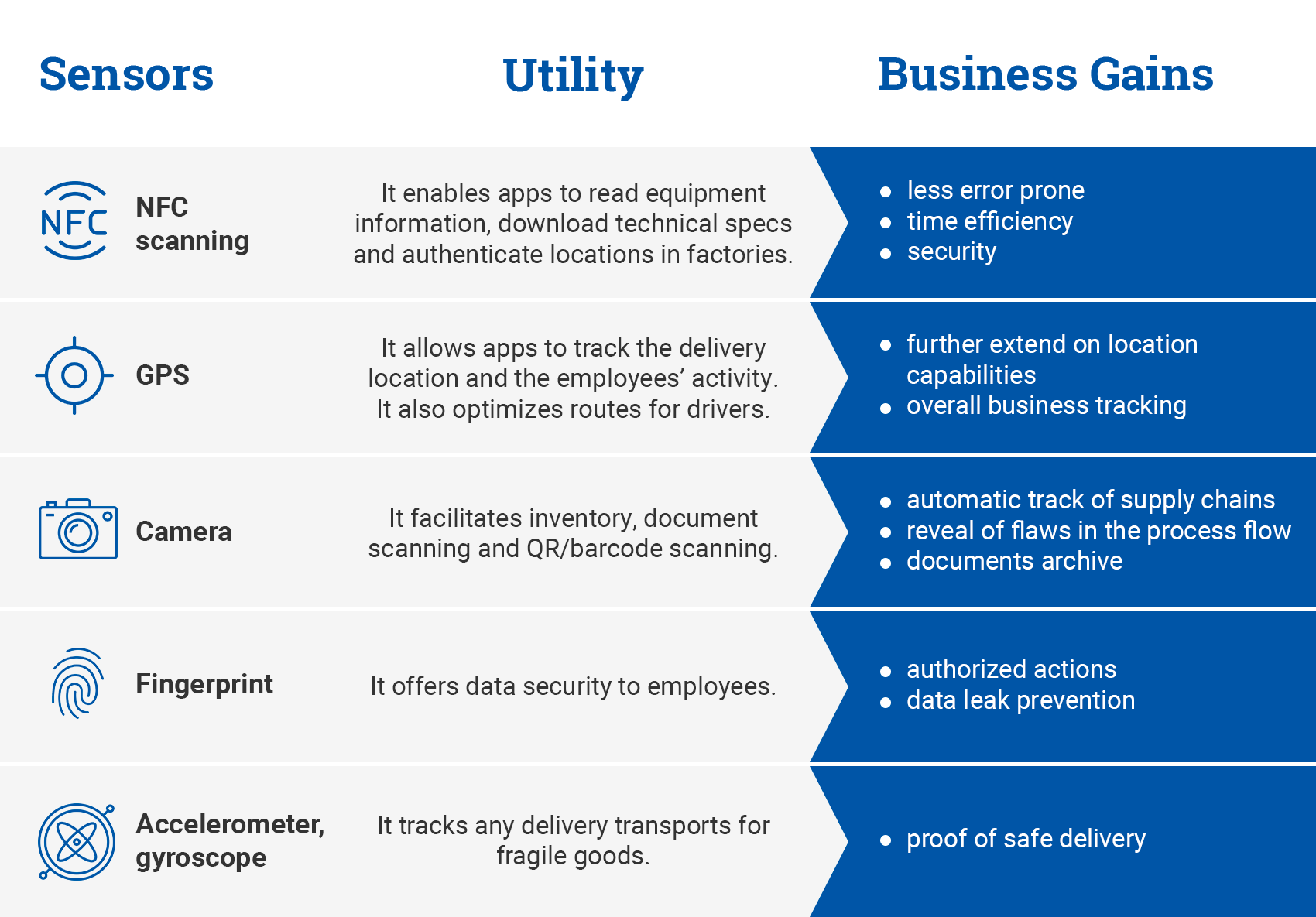 Mobile phones are a more accessible alternative to dedicated devices, such as laptops or computers. Here are, in short, some use cases that exemplify the value of mobile apps and their usability once implemented:
Business data - Mobile apps provide data and analytics so that employees can make informed decisions by analyzing the data.
Industry - Technicians have access to assistance and technical manuals, while assembly lines supervisors get real time machine data.
Delivery - You can manage your order tracking and management.
Payments - Mobile devices can serve as POS, while its sensors facilitate one's activities.
1. Business data for better decision making
Online businesses must constantly

monitor and analyze their data

to reach intelligent results.
The rich data provided by a mobile app adds

value to the business processes and saves time

as it helps managers identify challenges and growth opportunities.
2. Industry: real time data analytics and guided intervention
In industries such as manufacturing or automotive, you can get real-time machine data via the assembly lines

, directly through your mobile app.
Mobile apps can act as

an adjunct to a system

as they can display system errors and notify the responsible. The person in charge can then immediately take action to fix them. The mobile app allows access to technical manuals for technicians and guided intervention in case of any equipment failure.
The benefits of

real time data analytics

: an overview of your business flow; alerts or push notifications in case of system failure; less error prone through in-app guiding (e.g. text-based procedures to assisted Augmented Reality "AR" guiding).
3. Delivery management
In the courier and delivery services industry, mobile apps can provide

an overview of the entire lifecycle of a parcel

- from the sender who places the order, to the warehouse, to reaching the recipient.
During this process, the mobile app transmits to a central server any status change of the parcel. Thus, the courier becomes aware of whatever action is required, be it

order or location tracking, route optimization or parcel prioritization decisions

.
Optimized

courier route algorithms decrease the delivery time

, while customers have access to accurate delivery estimates.
Monitoring and managing the parcel status is a pivotal action that leads to

warehouse time optimization

.
4. Mobile app payments
Mobile apps can serve as a POS or have multiple payment functionalities

: integration with the existing systems (orders, sales tracking, inventory and compute payment), coupon scanning that boosts customer engagement, integration of the mobile app with the self checkout system.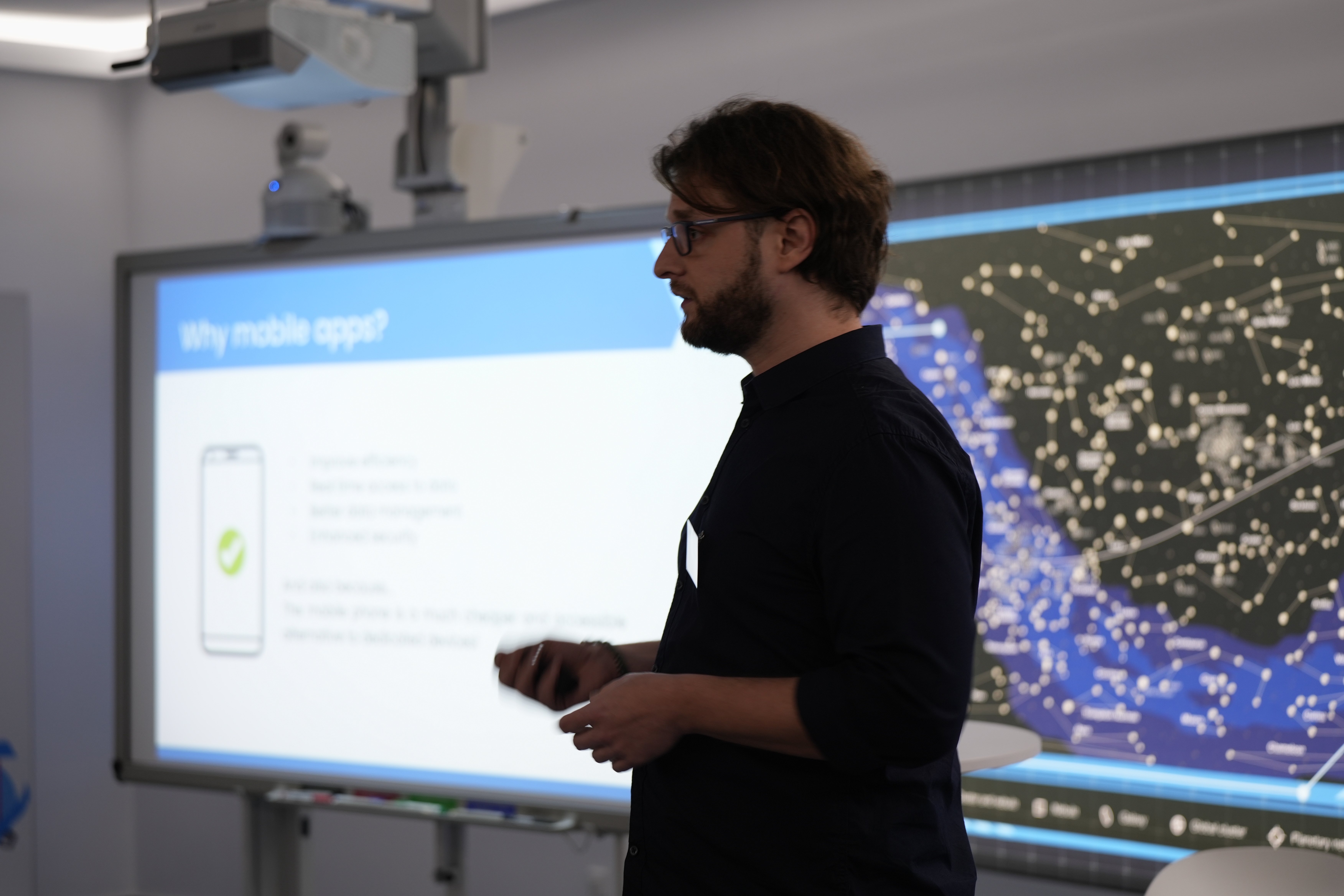 Maximize customer lifetime value with mobile loyalty
Andrei Pîrvuleț, Platforms & Technology Director at Freshful by eMAG, talked about how mobile apps help build customer loyalty and increase the customer lifetime value. With over 80,000 customers and more than 630,000 orders, Freshful by eMAG is the first 100% online grocery shop in Romania. Andrei shared valuable insights on how the Freshful mobile app brought them a higher share of customer orders compared to the website. He divulged key elements to maximize customer retention and increase loyalty rates. Below are 3 of Freshful's most important learnings that their app experience has brought along:
1. Satisfy customers' recurrent need
To drive customer loyalty and to stay on top of the industry, any business must

identify and satisfy the customers' recurrent needs

.
Knowing how to engage the customer on your mobile app every day leads to business success. The secret to this is to drive

a change in customers' behavior

to convince your audience to install and use your app regularly.
Some ideas and mechanisms that can trigger this behavior are by offering your user

benefits such as: free shipping, discounts, gifts, or advantages for the customer's first order.

People are reluctant to install an app if they don't have a recurrent need. Generally, they install an app that satisfies their sporadic necessities. But, if that app is used rarely, consumers don't have an interest in installing an additional one that satisfies the same need as the previous installed app. That's why Freshful believes it's extremely important

to

be first in the industry and find ways to trigger a recurrent need

, especially if you're active in a niche industry.
2. Offer excellent customer experience
Great UX improves customer loyalty

. People use mobile apps recurrently, which means that any error, no matter how small, can make them uninstall the app. Thus, UX excellence is crucial to maintain your loyalty rate.
An effective UX/UI structure provides a seamless and enjoyable experience that gets users coming and staying with your app. In addition, every small thing that improves the experience counts for the user - from

load times, to transitions or animations, and so on

.
Native apps allow better load times because they

provide access to the native features

of the phone and hardware.
3. Use the app tech stack
The features from your mobile tech stack can be used in your mobile app as well

. This can streamline the experience of your customers.
For example, Freshful uses the users'

GPS and localization data

of the phone to autofill the order delivery address. To place the order faster, via the mobile app, customers have the possibility to scan the QR code of a product they have in their home and the product is instantly added to the cart.
Staying on top of people's minds and convincing them to get into your app is imperative. A great and

cost-free way to provide value to your customers and offer them relevant info from both a transactional and commercial perspective is through push notifications

.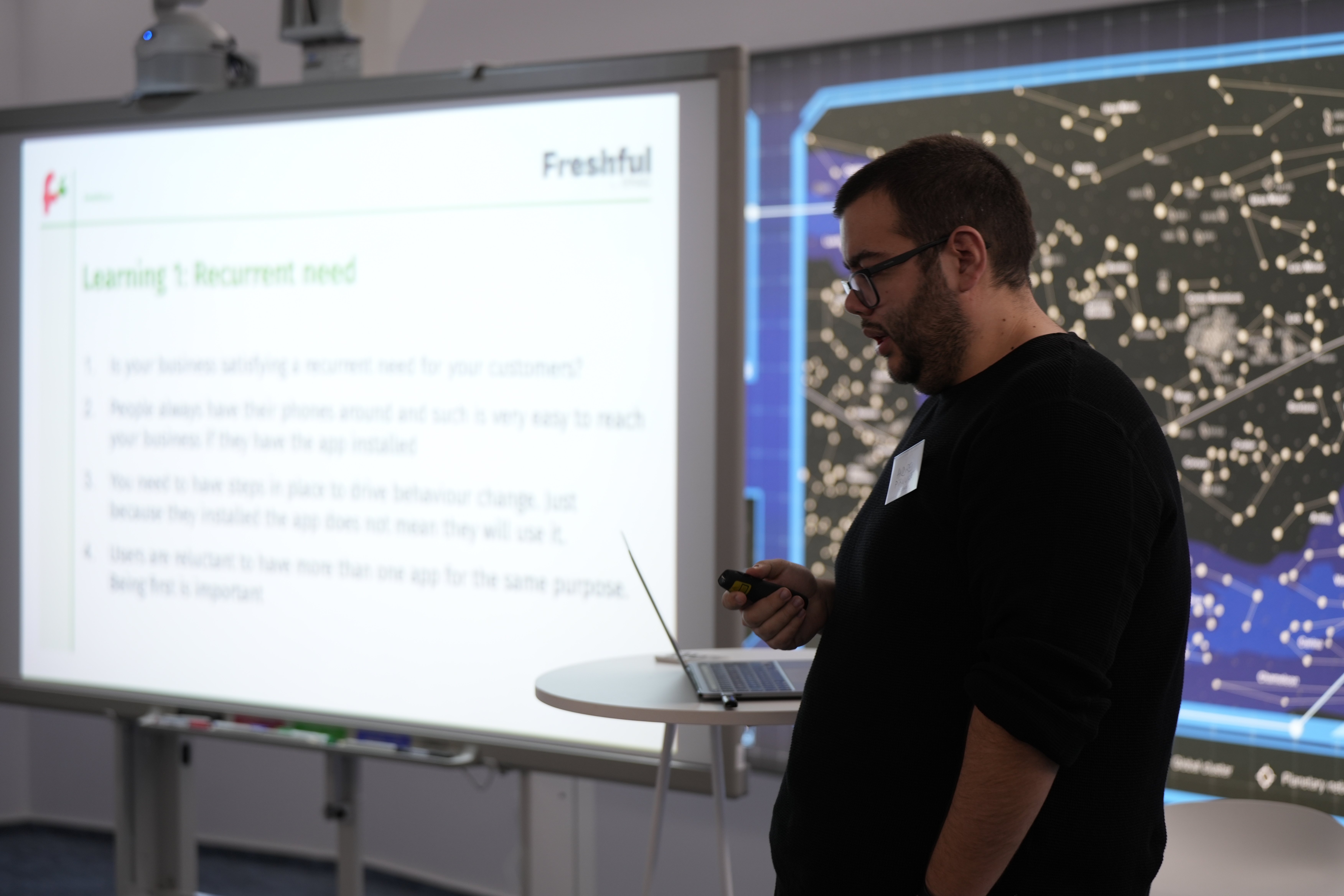 Mobile apps: Driving value and competitive advantage
So far we dived deep into internal apps, as well as we saw how external applications can help businesses maximize customer loyalty and engagement. Now, it's time to make a foray into the value that mobile apps bring. As a final note, Iulian Oprea, Zitec's Mobile & Blockchain Technologies Director, discussed the newest mobile trends and the value and competitive advantages driven by these. Here are the most poignant highlights from his presentation:
1. Mobile solutions can't be ignored
Let's consider the following:
Mobile technology has shown a steady increase in popularity, usage and consumer. 49% of people open an app 11+ times each day, while 21% of Millennials open an app 50+ times per day.
Online shopping or payment on-the-go apps have become a part of our daily routine.
Mobile apps offer a seamless experience and more functionalities such as: local storage, better safety, push notifications, GPS location, camera, mobile payments, biometrics etc.
Embracing strategic mobile tools has become a crucial way to restructure the business operations.
But, although the statistics show that mobile technology is on the rise, the question that remains is: If I already have a website, why do I still need a mobile app? The answer is simple. Leveraging mobile solutions can transform your business processes and enhance customer experience, therefore differentiate yourself from the rest of the competition to stay ahead of the curve. More explicitly, the most impactful benefits:
An

overall mobile strategy

can cater for the ever-growing mobile-centric consumers.
Customer-facing apps strengthen

customer engagement and loyalty

.
Mobile apps reduce loading times and

improve performance

, which boost brand loyalty.
Businesses can increase their

brand awareness

and engagement through push notifications, targeted messages or exclusive promotions.
Internal mobile apps streamline business processes and workflow and improve

cost efficiency and employee productivity

. Thus, they are a worthwhile endeavor that can yield

big returns

for your business.
Mobile applications allow

access to device features (camera, GPS, etc.)

, which leads to faster and better performance.
2. 2023 mobile trends
In terms of mobile trends, there is an

AI hype lately, especially with the launch of ChatGPT

. The advantage is that AI opens ways to faster customer support and product recommendations.
The

AR area

also stands out, as it allows customers to interact with their desired products before purchasing them.

Personal data and mobile security go hand in hand

. Given that mobile apps collect personal data, it is of utmost importance that businesses should focus on data security and protection. However, the implementation of biometrics brings a high level of security for the data stored on the mobile device.
Learnings and conclusions
Let's recap the insights presented by the speakers from Zitec and Freshful by eMAG, as they can boost your success:
Developing an overall strategy for mobile applications tailored to your specific business needs can help you achieve competitive advantages.
Mobile apps are a sure-fire way to achieve customer loyalty, engagement and retention.
Internal mobile apps can streamline operational processes, bringing numerous benefits among which cost efficiency & employee productivity.
Stay tuned for more insights on mobile app development from our team of experts and our partners. With an experience of over 10 years, we've been creating digitally transformative and scalable apps for both Android and iOS devices. We hold the necessary know-how to develop native and cross-platform mobile solutions using cutting-edge technologies, tools and frameworks. We have you covered with the entire mobile app development cycle from ideation to delivery, including business analysis, UX/UI design, QA testing, infrastructure integration, on-demand scaling and optimization.
Ready to start working on your app? Whether you're looking to build a consumer-facing app, a transformative enterprise solution, or simply to modernize your existing mobile solution, feel free to get in touch for a quick call to explore how you can accelerate your business with mobile app development.