Zitec was recently honored by Microsoft as the 2023 Partner of the Year in Romania, standing out among global Microsoft partners for their innovative approach and effective utilization of Microsoft technology in customer solutions.
This recognition underscores Zitec's capacity to drive digital transformation for clients, particularly demonstrated through their collaboration with Sameday, Romania's fastest-growing courier firm.
Lucian Daia, Zitec's Chief Technology Officer (CTO) and Partner, conveyed gratitude for the recognition while emphasizing that the potential of cloud platforms, like Microsoft Azure, remains largely untapped.
We are grateful and proud to receive this award from Microsoft and we want to thank our customers for their trust, support, and determination to modernize their digital estate using Microsoft Azure and Zitec's consulting services. Our belief is that cloud platforms have radically improved the process of developing and operating software applications, but we are still a long way from utilizing them at their full potential given the inherent technical complexity.

Lucian Daia
Chief Technology Officer (CTO) &
Partner, Zitec
The award also acknowledges the dedication of Zitec's adept team, known for their extensive expertise and certifications, which underpin the company's exceptional service quality.
Harnessing the power of Microsoft Azure
Zitec's collaboration with Microsoft is rooted in shared values encompassing respect, integrity, accountability, and sustainability. These foundational principles empower Zitec to guide ambitious enterprises, like Sameday, towards realizing the full capabilities of Microsoft Azure.
Congratulations to the winners and finalists of the 2023 Microsoft Partner of the Year Awards! The innovative new solutions and services that positively impact customers and enable digital transformation from this year's winners demonstrate the best of what's possible with the Microsoft Cloud.

Nicole Dezen
Chief Partner Officer and Corporate Vice President of Global Partner Solutions, Microsoft
In the face of today's challenging economic environment, companies must be agile and seek sustainable solutions to counter inflationary pressures. Zitec, a leader in the Romanian IT & Digital Marketing fields, has successfully leveraged Microsoft technology to achieve this and support companies on their journey to the cloud.
As a result, the company's Microsoft Azure cloud business segment grew by 34% during the first half of 2023 compared to the first six months of 2022.
Sustainability and security at the forefront of the journey to the cloud
Zitec remains committed to leveraging the cloud as a way to make its customers' businesses more effective and sustainable.

The company's collaboration with Microsoft Azure dates back to 2011, marking them as pioneers in Romania by launching a live application on the platform. Over the years, Zitec has facilitated migration and modernization for over 100 workloads across Europe and North America, with a substantial focus on critical applications for medium to large organizations.

One notable example of this collaboration is Zitec's contribution to the digital advancement of Sameday, Romania's fastest-growing courier company. Sameday's introduction of easybox delivery propelled it to a prominent position within the Romanian market, with expansions into Hungary and Bulgaria.
Zitec supports Sameday's digital journey and growth
For more than six years, Zitec has been aiding Sameday in achieving rapid business expansion through solutions designed to offer both customers and couriers flexibility and convenience.

Some of the transformative aspects of these projects have been captured in case studies on the Microsoft Sentinel security implementation, reinventing delivery with Sameday's easybox locker service, or Sameday's Kubernetes-based infrastructure.
Technology is critical to our vision of becoming the largest and most innovative courier company in South-Eastern Europe, as well as to our commitment to reducing the environmental impact of delivery services. We would like to thank Zitec and Microsoft for their strategic support in managing the rising complexity of our systems. We are honored that our continued work together is receiving such a coveted recognition.

Dragoș Bărbulescu
Chief Technology Officer (CTO),
Sameday
After introducing easybox delivery to the national market, Sameday is currently among the main players in its segment in Romania, and it has expanded its activity in Hungary and Bulgaria.
Sameday goes from local player to regional force
Sameday offers an extensive range of services, including door-to-door delivery and parcel pick-up and return in over 4,700 easybox lockers in three countries.

The Romanian courier company has developed the most extensive network of lockers in Southeast Europe, including units that rely on solar energy.

Empowered by its technological ecosystem, Sameday is dedicated to providing delivery services that foster growth opportunities for individuals, industries, and communities.

Zitec has been a perpetual presence in Sameday's profound transformation from local to regional prominence. As a technology partner, Zitec consistently provided essential components that laid the groundwork for Sameday's rapid business expansion.

Faced with the complexity of monitoring Sameday's diverse app landscape, devices, users, and infrastructure, the imperative was a solution robust enough to meet the security demands of such an intricate architecture.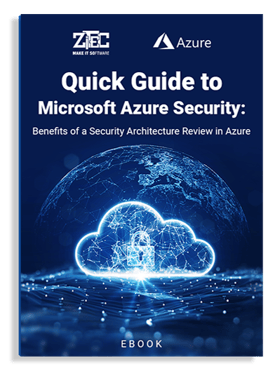 Benefits of a Security Architecture Review in Azure
The guide contains valuable insights into best practices and concrete case studies regarding your digital assets protection.
We encourage you to download this free eBook.
Discover why the adoption of the Microsoft Azure solutions and regularly reviewing your security architecture can help you avoid risks, prevent potential vulnerabilities, meet customer expectations, or offer superior services, speed and performance.
Microsoft Sentinel emerged as the unequivocal choice, adept at overseeing Sameday's entire ecosystem despite its multifaceted challenges. The pivotal year of 2022, following the pandemic's impact, marked unprecedented shifts in industry and society. The surge in online product orders became the norm, driving escalated demand and necessitating the rapid scaling of logistics companies to meet the upsurge.

For Sameday, Zitec orchestrated a migration to a new Kubernetes infrastructure, expertly navigating the intricacies to ensure seamless management of the Black Friday campaign, culminating in the successful delivery of over 3.6 million orders.

Sameday's transition to a Kubernetes-driven, container-based architecture was smoothly executed in anticipation of the Black Friday event. Given the extensive scale of their infrastructure - encompassing 34 application environments - the project presented distinctive challenges that Zitec's accomplished DevOps team adeptly resolved to meet business objectives.

The company's determination to handle the surges of Black Friday traffic further underscored its reliance on Zitec. This collaboration led to swift operational platform scaling and the implementation of a solution for processing and dissecting vast datasets. Addressing the multifaceted needs of the project, Zitec embarked on a comprehensive digitalization strategy, subsequently entrusting the execution of each facet to specialized teams.

The bedrock of the core operations platforms rested upon open source technologies, with Microsoft Azure forming the infrastructure foundation. This approach facilitated horizontal scalability to accommodate substantial growth, while leveraging managed services to curtail operational complexity, ensuring heightened availability and resilience.
Collaborating towards a sustainable future
The expansion of operational and locker platforms across the Central and Eastern European (CEE) region remains a primary objective for the future of Sameday, along with a strategic focus on enhancing the data infrastructure to ensure the preservation of exceptional response times.

Sameday's revolutionary easybox locker stands as a pioneer, exclusively powered by solar energy and featuring an integrated air quality sensor. An illuminating Sameday research highlights that strategically situating these lockers in close proximity to residential zones, offices, or supermarket chains yields a remarkable reduction of up to 95% in CO2 emissions compared to a traditional delivery, consequently alleviating traffic congestion.

Sameday's operational framework is firmly rooted in a robust business model, steering efforts towards a sustainable future for delivery services. Through these endeavors, the company actively contributes to minimizing its ecological footprint and embracing environmentally conscious practices.
Elevating excellence: The prestigious Microsoft Partner of the Year awards
The Microsoft Partner of the Year awards stand as the ultimate accolade, reserved for those who have not only delivered exceptional solutions and services within the Microsoft ecosystem but have also set a new benchmark for excellence. Zitec's distinction emerges as a resounding testament to their profound impact on Azure-based solutions and services within Romania.

Zitec's team, among a distinguished array of Microsoft partners, converged at Microsoft Inspire 2023, held on July 18-19, 2023, in Redmond, WA.

The event, as highlighted by Microsoft CEO Satya Nadella, embodies the essence of collaboration and innovation, emphasizing the collective pursuit of serving customers across global landscapes, especially in times of rapid transformation.

As a host to the event, Nadella took the opportunity to extend gratitude to Microsoft's expansive network of 400,000 partners, applauding them for embodying the mission every day and exemplifying what can be achieved.

For an in-depth look at the 2023 awards, delve into the Microsoft Partner blog, where comprehensive insights await. Furthermore, to explore the full array of categories, exceptional winners, and distinguished finalists, a comprehensive directory is available here.
Zitec: looking ahead
Zitec remains steadfast in spearheading the journey of digital transformation with support from Microsoft. Zitec's accomplishments offer a source of motivation, highlighting the potential inherent in inventive cloud computing solutions.
A strong consultative approach will go a long way in helping customers understand the value of technology within an economic framework. By taking this comprehensive approach, companies can effectively leverage technology to drive growth and success.

Zitec plans to amplify its investment in Azure, recognizing it as a fundamental technology for the future, both in Central and Eastern Europe and globally.

Fueled by its strategic decisions, sustained growth, and its successful collaboration with Zitec and Microsoft, Sameday has emerged as Romania's leading digitally-oriented courier company. With an exceptional 99 percent service uptime, unmatched velocity, precision, foresight, and punctuality, Sameday sets a remarkable standard in the realm of on-time deliveries.
Discover how Azure's capabilities and built-in services can help you optimize business processes, extend effectiveness, and empower your team. Explore Zitec's expertise in the field.