Google Universal Analytics (UA) will be replaced on the 1st of July 2023 by Google Analytics 4 (GA4). Starting with this date, Universal Analytics will stop processing any new hits and you'll only be able to use GA4. You can still access your previously processed data in Universal Analytics for at least six months. That being said, there's no better time to start preparing for the implementation!
In this comprehensive resource, we begin by answering some of the most pressing questions we've extracted from our clients at Zitec, regarding the inevitable switch to GA4, and continue by offering you a step-by-step implementation plan, together with support to ensure a smooth setup.
Let's start with the basic questions first:
GOOGLE ANALYTICS 4 BASICS
1.
Can I use both Universal Analytics and Google Analytics 4?
You can use both UA and GA4 until the 1st of July, 2023. According to Google, through dual tagging, you can keep your Universal Analytics implementation in place while you set up your GA4 implementation. This allows you to build a historical record in GA4 while continuing to depend on UA until you're ready for the switch.
2. Does this change affect Google Ads campaigns?
The entire audience setup must be re-created in GA4; you cannot import audiences from Universal Analytics. In order to be able to use a GA4 audience with your Google Ads campaigns properly, you have to activate Google signals. Then, you need to enable ads personalization when you link your analytics property to Google Ads. You can create up to 400 links per property.
3. How can I explain data discrepancies between Universal Analytics and Google Analytics 4 to my client or manager?
UA hit types include page hits, eCommerce hits, event hits, and social interaction hits, while in GA4 data is event-based, meaning that any interaction can be captured as an event. Therefore, UA property hit types translate to events in a GA4 property.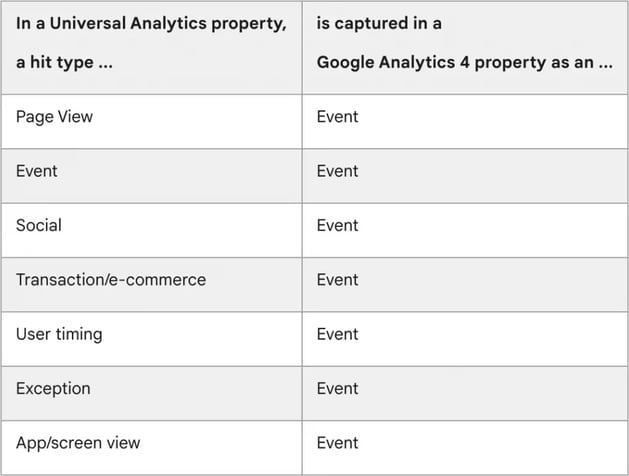 Source: Google Analytics Help
4. Where can I find Google Ads data in Google Analytics 4?
GA4 » Reports » Acquisition » Traffic acquisition » Paid Search.
After connecting Google Ads to GA4, in the Paid Search section you'll find the entire list of Google Ads reports: Accounts, Campaigns, Treemaps, Sitelinks, Bid Adjustments, Keywords, Search Queries, and Hour of Day. Your Ad Manager revenue data will be available in the Monetization » Publisher ads reports and the Explorations workspace.
5. Do I get more conversions on Google Ads with Google Analytics 4?
No. GA4 will only be a more robust and meaningful tool for website traffic analytics, tracking, and reporting. It helps you better measure your marketing efforts, providing you with more insights into what your target audience actually finds more relevant and engages with.
6. Does Google Analytics 4 use cookies?
At the moment, GA4 uses first-party cookies to identify users across sessions. However, with country-level privacy controls, you can minimize the collection of user data (cookies and metadata) and still preserve key measurement functionalities.
7. Is Google Analytics 4 GDPR compliant and privacy friendly?
Currently, GA4 is not fully GDPR compliant. Although it added extra privacy-focused features, due to the invalidation of the Privacy Shield framework in 2020, Google is yet to regulate EU-US data protection. However, you can use IP anonymization and avoid sharing collected data with other Google products or obtain the explicit user's consent to use the GA cookies on your website.
UA – GA4 SWAP REQUIREMENTS
Now let's get down to more applicable things and have a look at what actions the UA – GA4 swap requires of you:
1.
What is Google Analytics 4 and what does it bring new?
GA4 is the latest version of Google Analytics, a cross-platform analytics tool that allows you to monitor website traffic and engagement. It was introduced in 2019 in a bid to address the evolving measurement standards and help businesses succeed in the digital economy.
The main difference between UA and GA4 is related to events, instead of page views, which you can set up by yourself. GA4 also measures certain events by default: scrolls, pageviews, video engagement, outgoing clicks, search queries on the site, or file downloads. The new version also leverages machine learning technology to predict new insights and to keep up with evolving needs and user expectations.
Since the launch, Google brings new features and upgrades almost on a monthly basis. If you want to keep up with what's new, you can check the Analytics announcements section. Here are some of the most important updates so far:
tailored recommendations, for more useful and accurate data;
Google Ads Search Queries report, to ensure that metrics will be more consistent with what you're seeing in your Google Ads reports;
improvements to

Data-Driven Attribution

for conversion types with low volume or short data history;
access Logging API, to allow teams working in different time zones to monitor access to their accounts for audit purposes;
audience-management functionality, for better users segmentation;
change cookie settings, an alternative to editing global site tag code or using Google Tag Manager;
apply filters to detail reports, to visualize a subset of the report data;
behavioral modeling for consent mode, aimed at filling the data gap by modeling the behavior of users who decline cookies based on similar users who accept cookies;
dynamic look back in Analytics audiences, to configure the audience definition to include/exclude users who satisfy the value of the event_count parameter within the last N days;
data collection on the same property: this next generation of analytics collects event-based data from both websites and apps through data streams.
2. Why should you move to Google Analytics 4?
GA4 gives your businesses the flexibility to monitor a wide range of data. Besides keeping up with digital consumer behavior and bypassing data privacy constraints, there is a bunch of other benefits worth having in mind when optimizing your campaigns:
a better customer understanding across touchpoints: you get a complete overview of the customer journey through an event-based measurement model;
increased ROI:

with data-driven attribution, you can analyze your marketing efforts across the customer journey and understand how they influence your conversions.
more compliance with user privacy, due to the new country-level privacy controls that allows you to minimize the collection of user-level data;
more relevant data

through machine learning; you can generate predictive insights about user behavior or create new audiences of users likely to purchase or churn.

3. What will change for marketing teams and professionals?
GA4 helps marketing teams and professionals better measure their marketing efforts by providing more insights into user behavior. Even though the new version still has some finetuning to address, early adopters of GA4 have already reported certain benefits:
a better view of how users moved through the purchase funnel;
reduced time spent on user journey analysis.
However, there are also reported certain challenges, mostly related to mistakes in configurations that need to be avoided, some of them being caused by the still-developing GA4 interface.
Too many parameters as dimensions: in GA4, you can register up to 50 custom dimensions per property, which might not suffice when working on big projects. In this case, you should be one step ahead and come up with a proper naming convention from the very beginning, with neither too many unique event parameters, nor too few.
Data retention: when it comes to the explorations reporting feature, you can work only with the data from the last 2 or 14 months by default. If you want to build a custom report in explorations with data from a different timeframe, you need to opt for the paid version.
Consent settings in Google Tag Manager: GA4 consent features don't take away all of the friction from integrating consent management platforms with Google Tag Manager. You can quickly audit a container for consent support, but more transparency is needed on how the tag relies on consent. At the moment, you have to dig into the template code to find out.
4. How to make the switch to Google Analytics 4 and how long does it take?
It's better to start the transition process sooner than later, to make sure you can build more historical data that you can already use when Universal Analytics is discontinued.
2 and 32 weeks after GA4 is set up and starts collecting data, the machine learning model will be sufficiently trained to analyze data and predict users' actions. This is when marketers will begin to see "Insights" appear on their GA4 Home page, which will show any changes, emerging trends, or inconsistencies about their site or app.
In order to properly go through this process, you can work with an agency or discover the steps via Google Support.
5. What can happen with my historical data from Universal Analytics?
It's recommended to have GA4 installed along with your existing Universal Analytics property due to the fact that starting with July 1st UA won't be recording any new data. 6 months after this day, you will still be able to see the historical data in the Universal Analytics property. Afterward, it's most likely that all data will be deleted. We recommend that you download all data from the UA after July 1 if they're still legally accessible (if you have rights to keep the data according to GDPR).
6. How to analyze and create reports in Google Analytics 4?
You can learn how to create custom reports in GA4 by using the new Explore tab and experimenting with the settings. When you first set up a report, you'll notice the report editor has two columns, Variables and Tab Settings. To avoid being overwhelmed, try to focus on one at a time.
Variables: here you can choose all of the variables and data you might want to use in your report; these do not show up in the report without being dragged over to the Tab Settings column;
Tab Settings: control what appears in your report; you'll drag and drop dimensions and metrics from the Variables column here to add them to your report.
When you're ready to create your first custom report, you can follow these steps:
Choose Free Form in the Explore Tab » Pick Date Range » Add Segments (Optional) » Add Dimensions » Add Metrics » Drag and Drop Segments » Drag & Drop Rows and Columns » Drag & Drop Values
Bear in mind that there's no landing pages report in the GA4 reporting interface. You can create a custom report so you can still see your landing page data easily.
Let's recap!
Google Universal Analytics will be replaced on the 1st of July 2023 by Google Analytics 4, meaning that you need to start preparing your GA4 property, follow UA and GA4 reports in parallel, and customize your reporting dashboard. Once you've finished the initial Google Analytics 4 initial setup, you can also have a look at our recent article designed to help you get more relevant insights about your audience and business.
Contact our Digital Marketing team for any questions related to your GA4 implementation!