It is not a novelty that the events in the last couple of years have made the entire world stand on the cusp of change. However, amid viruses that do not discriminate, economical and political crises, fear and uncertainty, physical and psychological damage, we notice a glimpse of hope in terms of community resilience and will to move forward. In a time when the world needs empathy and kindness, we could not passively watch. As such, it is an ideal moment to reflect on the needed support to help those unfairly underserved.
As part of this global effort, we mobilized our forces to play a part in initiatives such as volunteering, accommodation for refugees or transportation of necessity packages in drop-off locations, collecting donations and translation services, to name a few. We are grateful to join our clients, partners and collaborators who have already acted swiftly to launch supportive measures and humanitarian responses.
It is only fair to recognize and share these initiatives in a bid to inspire other businesses around the world and make meaningful contributions to help the most vulnerable communities.
Blood donation campaigns
In 2016 we launched a campaign together with Centrul de Transfuzie București (Transfusion Center in Bucharest) aiming to search for 1024 blood donors; with blood donations being made directly at the Zitec headquarters. This is how #cei1024 was born. Later, other mobile centers from various cities joined our cause to broaden the scope of this initiative towards further companies around Romania. In the first year of this campaign, we saved more than 3.400 lives by donating over 500 liters of blood. Currently, we reached a total of 5.799 donators, gathering 2609.55 liters of blood. With our most recent campaign, we aimed to help the medical system cover the need for blood, especially considering the actual global context. As a result of our efforts, we are happily proud to have saved 17.397 lives so far.
Charitable work
But we haven't stopped here. Members from the Zitec team have been offering their own services in various circumstances. After all, any kind of aid entails prompt intervention to alleviate the suffering of those who need to get back on their feet.
For instance, some of our colleagues volunteered to help the refugees at Gara de Nord (Northern Railway Station) in Bucharest. They either offered their assistance with any translation necessary in order to facilitate the communication between the refugees and the locals or they rendered their own means of transportation to deliver essentials or to ease people's arrival to refugee camps.
While it is difficult for victims to break out of the vicious circle of trauma, grief and stress, a lifting hand, no matter how small, will always bring light to move forward. And as long as we continue to cooperate as a whole community, we will transform victims' struggles into an escape towards safety, even if it's for a short period of time.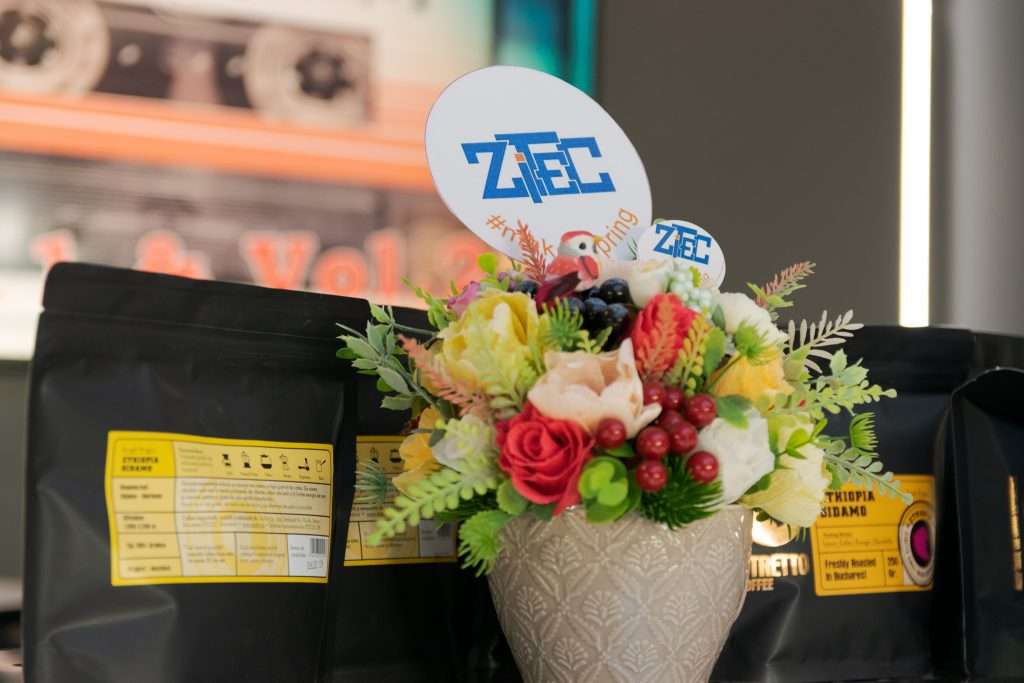 Fundraising for medical supplies and education
Other colleagues from Zitec volunteered to associations such as Ajungem MARI that aids the institutionalized children and young adults who come from unprivileged backgrounds. To support this cause, our colleagues "donated" their birthdays by appealing to those willing to contribute financially to a birthday gift. Instead, they were asked to make a donation for this association. The same initiative – transforming birthday gifts into donations – was put into practice for the MagicEDU program within Asociația Magic (the Magic Association). This project is meant to help the ill children who want to continue or finalize their studies after long treatment and hospitalized periods. Thus, 200 children will receive monthly scholarships worth 500 RON.
In addition, Asociația Magic offers its help to the most vulnerable refugees: the children with major health issues who require urgent medical assistance. Via the Magic4Ukraine campaign, funds are raised so that the association could help these children continue their treatments.
We must admit that in poverty, economical and political crisis, conflict or hazardous events, people can be extremely vulnerable and health can become more fragile. In these conditions, the safety and wellbeing of children and adults at risk is of utmost importance. Acknowledging the fundamental need for help, our clients took action and engaged within different humanitarian activities.
As such, Brico Dépôt, helped by the company's volunteers and local non-governmental associations, carried out a series of actions to support the refugees from the neighboring country. On behalf of the company's Foundation, Brico Dépôt employees organized a fundraiser, which was redirected to the North Humanitarian Foundation 2001 – "Sânge pentru România (Blood for Romania)". The funds donated by employees will be doubled by Brico Dépôt, in order to support as many beneficiaries as possible.
In its endeavor to provide humanitarian assistance to vulnerable people, Brico Dépôt financially supports other local non-governmental associations such as the Red Cross or FARA Foundation, which provides assistance in the transit centers in Suceava and Vama Siret. Another association supported by the company is the already mentioned North Humanitarian Foundation 2001 "Blood for Romania", which collects donations for the Emergency Command and directs them to the Chernivtsi and refugees waiting at the customs in Ukraine.
Moreover, the association Dăruiește Viață was founded in 2012 and its goal was to reform the Romanian medical system by building hospitals, sterile rooms, operating rooms, intensive care units, stem cell transplant compartments, or radiation therapy clinics. Via The Emergency Fund for Ukraine, Dăruiește Viață landed a hand to both the chronically ill people and those who fell victim to the war outside. The funds will supply patients and the medical stuff with medicines, medical equipment or the resources needed to continue their treatment. We are really grateful to have had the opportunity to support the association's efforts via our work during this endeavor.
Product donations
Amongst our clients, eMAG and Tazz by eMAG affiliated with the Romanian Red Cross' humanitarian campaign to aid refugees in Ukraine. Thus, they contributed with food, sanitary and basic necessities; the cargo filling up five of the six trucks in the convoy. Moreover, both eMAG and Tazz created two special sections on their platforms where people could donate funds for the Ukrainian civilians. These funds are meant to be used by the Red Cross to purchase food and health products.
Another contributor to this cause is furniture and decoration retailer Jysk that donated items including blankets, pillows, linens and even beds to the population across the border. This was possible via the Hope and Homes for Children Foundation.
All the mentioned endowments from these businesses aim to offer those directly impacted an efficient way to release some of the pain, as well as to provide them with safety and a sustainable means of living. By helping them face this "new normal", we can only create a more equitable global community.
The Red Cross and the FARA Foundation for the Ukrainian refugees also received 270 tons of products from Carrefour Romania. Since most refugees have remained in cities close to home in hopes for a safe return in the proximate future, the foundation decided to set up two reception centers in Suceava, as it is currently the busiest entry point in Romania.
The online store Freshful by eMAG started a collaboration with Banca pentru Alimente (the Food Bank) in February. This collaboration saw donations of food and non-food products from Freshful's end to benefit those in need. The first transport of consumables was delivered to the centers set up by the General Directorate of Social Assistance of Bucharest and other centers in various cities that housed refugees. In the meantime, the volunteers of the "Banca de Bine" association handled the first 100 food packages from Freshful. The company also donated shopping vouchers to Magic Home, intended for people protected by this organization. The current amount of support provided by Freshful is over 16,000 EUR, yet, they are considering a series of other initiatives such as the encouragement of blood donations and aid for Ukrainians who are searching for jobs in Romania.
Sameday offered their 2400 easybox lockers for everyone who wanted to donate useful items. People can donate anything from personal hygiene or first-aid medical kits, baby care goods, basic or canned foods, to sweets or dietary products. The transport for these humanitarian packages is free of charge. If, however, anyone wants to donate money, they are redirected to the Romanian Cross Red webpage. Once again, we are grateful and happy at the same time for being allowed to use our teams' expertise to support this commendable initiative.
Romanian humanitarian organizations and associations
We cannot avoid mentioning the immense effort that humanitarian organizations put forward to support their daily causes. These associations constantly work to coordinate humanitarian relief of emergencies, provide life-saving assistance or try to offer as much aid as possible to those burdened by inhospitable conditions.
Code of Conduct is an organization that offers free of charge consultancy to Romanian public institutions where better digital services are needed. In conjunction with their mission, Code of Conduct enables the possibility to redistribute 3.5% of the profit tax to an NGO of your choice.
However, the lack of digitalization is mostly seen when poverty seizes people's livelihood. This problem is always aggravated by the fact that destitute communities do not have the financial resources to offer their children the opportunity for a better education, health system and eventually a better subsistence. To ease this burden, we can mention here Fundația pentru SMURD that supports the development of the integrated medical and technical emergency and first-aid system.
When we talk about life quality, the exposure of children and single mothers is not equal to anything. Fundația Sensiblu actively contributes with direct donations to prevent domestic violence, carrying out awareness campaigns every year. Similarly, Fundația Prețuiește Viața offers support for mothers who need to know their rights and opportunities, while UNICEF Romania promotes children's rights and education against violence, neglectance and HIV exploitation.
In regards to education, Fundația REGINA MARIA provides over 50 children with an after-school program and financial support for nurses. Also, Fundația Montessori din România aims to obtain funds and finance projects for the development of pedagogy and education.
The causes of the organizations and businesses mentioned above can be supported with donations and volunteering acts at any time. Please check each of them if you are willing to contribute.
The bottom line
At times of disaster, when people are impacted by losses and cataclysms, we can substantially influence the development of these situations, reduce the pain of those in hazard-prone areas and bring a bit of light for the future. It is paramount at times like these to recognize that our social and ethical responsibility to individuals and communities should motivate us, rethink, and engage in humanitarian responses. Global fragility is a reality, but it is about how we answer it in order to bypass it.
In the wake of all the crises that have happened in the world lately, we all have remained resilient. We came together and faced these vulnerabilities, we landed a hand to the communities in need and we overcame some of the biggest challenges. Collaborative efforts and optimism for better circumstances always pay off, but to achieve that, we need to continue helping each other.