As technology continues to advance, empowering a work-from-anywhere culture, the spotlight on people-centered practices becomes ever more vibrant. This is particularly true for organizations that value their employees and are committed to cultivating an environment that fosters productivity, satisfaction, and well-being.

Acknowledging this, Școala de HR and Zitec have come together to present the 2023 IT Employment Landscape, a comprehensive study of the IT industry in Romania.
Motivation? A nationwide information gap
Our motivation for this report stems from the recognition of an information gap. Romania's IT sector, characterized by its dynamic growth, skilled workforce, and blossoming start-up ecosystem, is an exciting player in the global shift toward tech.
However, there has been a need for fresh, detailed insights into the transforming lives of IT specialists in the country, which we always find to be the missing element in adjusting and nurturing a work culture of personal growth and team progress.
The 2023 IT Employment Landscape in Romania aims to bridge this gap. Through a nationwide survey of IT professionals, with close to 1600 survey responses & 30 comprehensive interviews, we offer a timely, accurate snapshot of the IT workplace in Romania, spotlighting key trends that are shaping the industry.
The report covers a broad range of vital topics, investigating what motivates IT specialists at work, identifying collaboration deal breakers, discerning future plans, understanding who aspires to leadership roles, and determining preferred work formats in the coming years.
Our goal is to equip our readers with actionable insights that can drive their people-centered strategies, policies, practices and strategies in the IT workplace. Whether you are an IT professional charting your career path, a policy-maker developing relevant regulations, a business leader devising your next move, or an educator preparing future IT talent, this report aims to be a valuable resource.
We sought to explore whether the 'paradise' in the IT industry still exists. We were aware that the benefits IT professionals received five years ago were truly unique. In collaboration with Zitec, we've ascertained that work standards in Romania are evolving annually. As evidenced by the study, the need for a balanced personal life is steadily becoming a fundamental priority for IT employees.

Andra Pintican,
Founder of Școala de HR
A nuanced IT landscape with surprising priorities
The 2023 IT Employment Landscape reveals a nuanced landscape in Romania's IT industry, with employees placing a high premium on work-life balance, fair compensation, and quality team environments.

The industry shows a shift towards remote and hybrid work, with traditional recruitment still being the most common route into the sector. While there is a notable degree of job dissatisfaction, with many seeking new employment, there's a strong focus on personal development and leadership growth, suggesting ambitious future plans.

Addressing deal breakers such as management quality, workplace culture, and rewards fairness is crucial for improving overall job satisfaction and collaboration.
1. Top 5 workplace priorities
The emphasis on salary, flexible work arrangements, and team quality highlights the importance of fair compensation, work-life balance, and a positive work environment in the IT industry.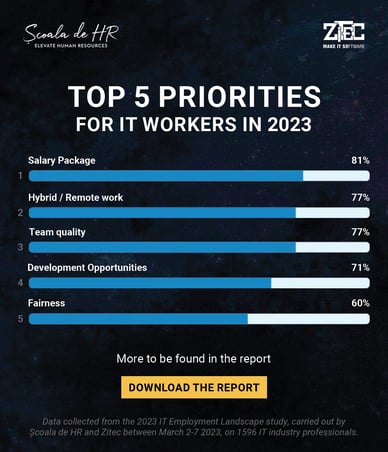 The prioritization of development opportunities, fairness, leadership quality, and modern tech stacks underscores the value IT professionals place on professional growth, equitable practices, and access to up-to-date technology. However, the downloadable study reveals a total of 13 priorities that IT professionals have mentioned, all of them revealing a comprehensive mix.
2. Preferred work format
The preference for remote and hybrid work arrangements reflects the industry's successful adaptation to remote work during the pandemic and suggests the need for continued flexibility in work arrangements. The low preference for office work may indicate a shift in work culture and expectations within the IT industry.

In the coming years, respondents prefer the following work formats:
Work from Home: 58.9%
Hybrid: 39.1%
Office: 2%
3. Preferred benefits
The preference for health and work-life balance benefits underlines the increasing importance of employee well-being in the IT industry. Growth and reward benefits emphasize the value IT professionals place on personal development, recognition, and compensation. Out-of-the-box benefits reflect the industry's innovation and adaptability to unique employee needs.

IT professionals value a range of benefits:
Health: Health service subscriptions, gym memberships, mental health services, health insurance, and health services for family members.
Work-Life Balance: Work-from-home options, extra vacation days, flexibility, utilities, work & travel programs, reimbursement for expenses, vacation tickets, and floating holidays.
Rewards: Yearly and trimestrial bonuses, performance bonuses, 13th and 14th salaries, project completion bonuses, newborn bonuses, and sales commissions.
Growth: Real growth opportunities, clear career paths, personal development programs, access to learning platforms, certifications, coaching & mentoring.
Out-of-the-Box Benefits: Stock option plans, retirement plans, and children-tailored schedules.
At Zitec we are on a constant journey to workplace wellness, so as a team we already have the tools and interpersonal connections that help us to always have access to the priorities and evolving needs of our colleagues. This way, we can always adjust the design of the work environment in favor of their well-being and satisfaction.

We believe everyone working in the IT industry in Romania deserves the same care and attention. That's why we've teamed up with the School of HR to launch a study. We were eager to understand the hopes and needs of industry professionals as they stand in 2023.

We feel it's high time for us all to join hands and work towards aligning our values. We need to learn from one another, and every individual should feel supported by their company in a way that encourages continuous learning and growth within a friendly, supportive environment.

Florentina Greger,
Chief Talent Experience Officer at Zitec
4. Pathways to an IT job
The popularity of traditional recruitment processes indicates a reliable structure and an expectation of fairness and transparency in the hiring process. On the other hand, headhunting suggests the importance of personal branding and industry reputation, while recommendations highlight the significance of networking within the industry. Other entry points like job fairs, internships, etc., reflect the industry's openness and accessibility to a diverse range of candidates.

During their careers, IT professionals have used various strategies to land jobs. The most prevalent include:
Classic Recruitment (Apply-Interview-Offer):

This traditional process remains the most utilized pathway into the IT industry. IT professionals typically respond to job postings, undergo interviews, and receive job offers based on their skills and suitability for the roles.

Headhunting:

A significant portion of IT professionals have been directly approached by recruiters or companies due to their skills, experience, or reputation in the industry.

Recommendations:

Referrals or recommendations by friends, colleagues, or mentors in the industry have also been instrumental in securing IT roles.
Other notable pathways into the IT world include job fairs, internships, networking events, IT training programs, proactive job hunting, and maintaining a robust LinkedIn presence.

5. Job Search Channels
The variation in job search platforms between juniors and seniors suggests that as IT professionals gain experience and establish a reputation, they rely more on professional networking sites like LinkedIn and targeted job applications, rather than general job portals.

Depending on their career stage, IT professionals tend to use different channels to find job opportunities:
Juniors:

Entry-level professionals or recent graduates often rely on platforms like Ejobs, Best Jobs, university job fairs, juniors.ro, and LinkedIn.

Seniors:

More experienced professionals predominantly use LinkedIn, apply directly on their desired company's website, or utilize platforms like GitHub, Indeed, and Glassdoor.
6. Career satisfaction
The data suggests a degree of job dissatisfaction, with 42% of respondents either unhappy in their current role or actively seeking other employment. This highlights the importance for IT companies to improve employee engagement, job satisfaction, and retention strategies.

The current state of career satisfaction among IT professionals reveals:
Happy with Their Job:

40% of respondents are content with their current role.

Job Searching:

25% have a job but are actively looking for another one.

Unhappy with Job:

17% are dissatisfied with their current job.

Freelancers/Contractors:

9% work as freelancers or contractors.
Notably, 30% of respondents would recommend their current employer to a friend.
7. Salary benchmarks
The salary benchmarks reflect a significant gender balance in the lower earnings bracket. However, the higher earnings bracket reveals a tendency towards contractual work arrangements, with development roles commanding higher salaries. The high job satisfaction rate among this group suggests that high earnings and contract work may contribute to job satisfaction.

When broken down by gender, role, and experience, salary benchmarks show:
Lower Earnings Bracket:

29% of respondents earn less than 10k RON net/monthly salary, with a near-equal gender distribution (50% male, 49% female).

Higher Earnings Bracket:

15.6% of respondents earn more than 20k RON net/month, with 58% working under a labor contract, 32% in development roles, and a majority (67%) happy with their current role.
8. Collaboration deal breakers
These deal breakers indicate areas where professionals expect IT companies to focus their improvement efforts. Management quality, culture, growth opportunities are critical areas affecting team collaboration and overall productivity.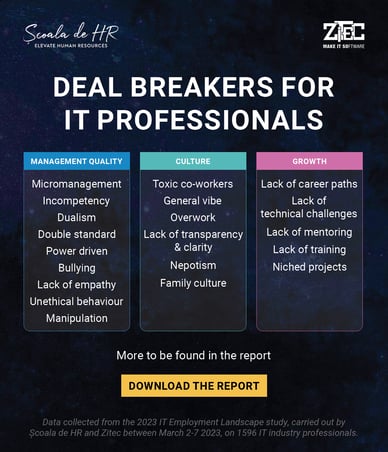 Factors that disrupt effective collaboration include:
Management Quality:

Micromanagement, incompetency, double standards, power-driven behaviors, bullying, lack of empathy, and unethical behavior.

Workplace Culture:

Toxic co-workers, overwork, lack of transparency and clarity, nepotism, and family-imposed culture.

Growth Opportunities:

Lack of career paths, lack of technical challenges, insufficient mentoring or training, and niche projects.

Inflexibility:

Mandated return to the office, overtime, disrespect for personal time, ongoing stress, and lack of work-from-home options.

Rewards:

Lack of performance bonuses, lack of recognition, unfair pay, and lack of respect.
9. Leadership aspirations
The data shows a significant interest in leadership roles among Millennials, suggesting a generational shift in the industry's leadership in the near future. Gen Z and Gen X's lower percentages may be attributed to their different career stages or priorities.

Of the 228 respondents (out of 1596) who indicated a desire to develop into a management role in the next 5-10 years:
Millennials: 60%
Gen Z: 22%
Gen X: 13%
10. Future plans
The focus on work-life balance reflects the shifting work culture in the IT industry towards holistic well-being. The interest in entrepreneurship and management roles indicates an ambition for leadership and autonomy. The desire to work in dream companies suggests the influence of company reputation on career aspirations.

When asked about their plans for the next 5-10 years in the workplace, respondents indicated:
Balance: 41.7% aim to strike a balance between personal and professional areas (with 57% men and 40% women);
Entrepreneurship: 26.8% plan to open their own businesses;
Management Roles: 14.7% aspire to grow into management roles;
Dream Company: 8.5% hope to work in their dream companies;
Other: 2.9% have other plans.
Methodology and representation
The study was carried out in March 2023 on nearly 1600 IT professionals. The survey's participants, aged between 18 to 55, were mainly distributed across Romania - Bucharest (44.5%), Cluj (16.7%), and Iasi (11.5%), with only 3.2% living abroad. This geographical representation ensures a comprehensive understanding of the IT work culture in these significant tech hubs of the country.
Education and career paths among respondents
In terms of education and career paths, our respondents presented a rich tapestry of backgrounds, showcasing the diversity within the Romanian IT sector. A majority of 56% embarked on their IT careers through university studies, indicating the strong academic foundations of the industry.

Meanwhile, 32.4% made a professional shift into the IT field, demonstrating the sector's appeal and accessibility to individuals from various disciplines. Impressively, 21.5% of our respondents are self-educated, highlighting the drive for self-improvement and the accessibility of resources for self-learning in the industry.
Roles and professional experience of respondents
Our survey respondents represented a wide variety of roles within the IT industry, such as developers, business analysts, product owners, QA engineers, and tech leads, among others. Their professional experience ranged from newcomers to the industry to seasoned professionals with over a decade of experience. This broad spectrum of respondents has enriched our insights and allowed us to capture a panoramic view of the trends, challenges, and opportunities within the IT workplace in Romania.

Through this robust methodology, both qualitative and quantitative, we have ensured that our findings are comprehensive, reliable, and representative of the diverse IT workforce in Romania. This is essential for providing valuable insights that can guide strategic decision-making and people-centered practices in the IT sector.
IT specialists - a forward-looking workforce here to draw the future of work
In conclusion, the findings of the 2023 IT Employment Landscape offer new insights into the evolving landscape of Romania's IT sector. The data underscores the shifting priorities of IT professionals, with work-life balance, fair compensation, and flexible work arrangements emerging as key facets of employee satisfaction.

For IT professionals reading this report, these findings are a mirror reflecting the shared experiences, aspirations, and concerns within the industry. The industry shows a positive trend toward personal development and leadership, indicating an ambitious and forward-looking workforce.

The future of work in the IT sector is exciting and full of potential, and companies that prioritize employee needs and aspirations are likely to thrive in this evolving landscape.

Learn how Zitec invested in 2022 in the well-being of its people, in Zitec's 2022 Company Report & Infographic and explore Mirro.io, Zitec's trusted partner in building strong workplace cultures that foster employee well-being.

We extend our sincere thanks to all the survey participants for their invaluable contributions, and to the dedicated teams at both Școala de HR and Zitec for their commitment to bringing this report to life. We hope the findings were enlightening and helpful as we navigated the evolving landscape of the Romanian IT workplace together.